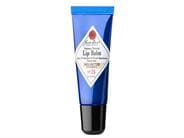 Reviews For
Jack Black Intense Therapy Lip Balm SPF 25
$7.50
Not a mint flavored gloss fan.
I purchased the tea & blackberry scent. This does not smell like mint, or eucalyptus which I appreciate, but faintly of blackberry, but not overwhelming. Gloss stays on and most importantly, not sticky. Easy twist off cap with an angled top for application. Good price, will definitely try the others that are not mint. Also goes nicely over my lipsticks that are matte. Sasha33
Verified Purchase
Great lip balm
I am very pleased with this lip balm. It goes on smoothly and hydrates and protects your lips from the sun. LovelySkin Customer
Verified Purchase
Best Lip Balm Ever
This is by the far the best lip balm I have used. Never using anything else again. elanabelle
Verified Purchase
Spf love
Best lip balm. Doesn't melt in car, or bag. Superior moisture with SPF! I recommend it to everyone. LovelySkin Customer
Verified Purchase
Overall Very Nice
This product was received on time and the packaging was nice. The lip balm is perfect, exactly what I wanted. I got the Shea Butter scent and it's very pleasant. Consistency is not too thick, looks like lipgloss. A little pricey but would still consider it a purchase I don't regret. LovelySkin Customer
Verified Purchase
Great!
I love this lip balm. I am very selective on my lip balms. I do love thick ones that stay on and make my lips feel hydrated. I have used Jack Black multiple times and I love it. My favorite flavor is shea butter. Michellep
Verified Purchase
Great Lip Balm for all Genders
I wish Jack Black was marketed to all genders, as their products are fantastic. This lip balm is no exception. I like the mint version, as it is lightly tingly. The balm has chemical SPF filters, but is in a soothing, emollient base. It does not impart shine to your lips, but does make them look healthy and hydrated. The balm itself is a cloudy clear color, so it does not look chalky on the lips, as many SPF lip balms tend to do. LovelySkin Customer
Verified Purchase
Great for Extra Dry Lips
This is a great moisturizer for extra dry lips. It is thick but not so goopy. On long and short hikes it keeps my lips more moist for longer than many other products (I have tried most of them!) and has the added benefit of sunscreen. It squeezes out gently and provides for a clean application that does not require touching of the lips. Killikeena
Verified Purchase
Use more than my chapstick now
I bought this looking for a product to moisturize my lips without giving me acne along my lip line. Usually other chap sticks cause acne breakouts around my mouth but since using this product I have not had another breakout. DaniKirk
Verified Purchase
The hype is real
One of the best lip balms I've used and I have used a lot. abc1111
Verified Purchase
Great moisturizing lip balm!
I really like this lip balm because it has SPF 25 in it to protect my lips and because it really helps to moisturize my lips. Both my husband and I use this to keep our lips moisturized and prevent our lips from getting dry or cracking. It feels nice, creamy, and smooth on your lips when you apply it. I personally really like the ones that have shea butter in them. Good lip balm
Ive used these balms for a while and they're really good. I like the unscented the best. They are basic everyday keep you lips moist products. Would recommend! Beautyjunkie1
Verified Purchase
HG lip balm
Heals my very dry lips with one application and the only lip balm with sunscreen that I can tolerate. LovelySkin Customer
Verified Purchase
One of the best!
This is by far one of the most moisturizing lip balms I have used. The texture is just perfect, not too heavy and not sticky. It stays put for a while and provides moisturization for about 2-3 hours before reapplying. The vanilla scent is just warm and sweet without being overwhelming. ninamont
Verified Purchase
Jack Black intense therapy lip balm SPF 25
After trying numerous other lip balms, both my teenage son and daughter finally said I'd found the winner. Both are on medication that extremely dries out their lips. Plus, they play outdoor sports. Nothing I bought brought relief, and they complained constantly. I had read a similar review on this product so tried to give it a try. I've ordered probably 10 tubes thus far and will continue to purchase this product. I don't know what gives it such superior hydrating properties. But, they love it. I should note that we use the basic Shea butter version. Very satisfied and highly recommend. LovelySkin Customer
Verified Purchase
Great Lip Balm
This is an excellent lip balm that keeps your lips moist and healthy! Awesome lip balm and great when outdoors
This lip balm feels amazing, and I love that it has SPF 25 since I am outdoors a lot! LovelySkin Customer
Verified Purchase
Just One of Many
Jack Black has a huge assortment of lip balm flavors that not only taste good but also keep lips moisturized better than other products I've used. I'm sensitive to scents, but I've had no headache issues related to their lip balm products, and I've tried quite a few. Highly recommend. LovelySkin Customer
Verified Purchase
Allergic Reaction
Worked well for the first few weeks, then I became allergic to something in the formulation with increased lip dryness, peeling, and cracking. Not sure which ingredient was responsible, so caution if you're allergy-prone. Otherwise, good texture and the SPF is a plus. LovelySkin Customer
Verified Purchase
excellent product
excellent product for lip care LovelySkin Customer
Verified Purchase
Nice Lip Balm
I've been searching for a lip balm that is not sticky or too thick & also contains SPF. This balm is a good one. I put it on under my lipstick since the sunscreen is chemical rather than physical. I prefer a physical sunscreen but haven't found one yet. LovelySkin Customer
Verified Purchase
Excellent
I like that this has SPF 25. It's hard to find a lip balm over 15 SPF. LovelySkin Customer
Verified Purchase
Very moisturizing!
Feels great and very moisturizing! Lasts several hours. A plus that sunscreen is an ingredient! LovelySkin Customer
Verified Purchase
decent staple
Always good to have around to provide some protection for lips. It don't find it moisturizing–I think the sunscreen ingredients undo that effect for me by causing some mild irritation. I do wish it had better sunscreen ingredients because the combo it has only protects against one type of UVA rays and is not photostable, but I tell myself it's better than nothing. It probably is, right? I don't know, but I like this better than many other lip SPF products. LovelySkin Customer
Verified Purchase
PERFECT!
Currently on Accutane, which if you are aware of the drug then you'll know the grueling side effects. A major one is very dry lips and while none of my previous attempts to moisturize them has worked this one is what I been needing! It leaves my lips feeling so smooth plus has a SPF of 25 only adding to what my sensitive lips need during my time on accurate. I never liked fragrance in my skincare, but the Vitamin e and shea butter is the exception since it's not at all strong and to me personally smells a bit like vanilla. Point is this lip balm is definitely a home run. LovelySkin Customer
Verified Purchase