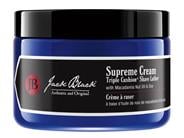 Reviews For
Jack Black Supreme Cream Triple Cushion Shave Lather - Jar 9.5 oz
$28.00
Best shave cream
This is the best shave cream ever. Only one my husband will use. Jack Black Supreme Cream Shave Lather
Husband loves this shaving cream. LovelySkin Customer
Verified Purchase
BEST SHAVE CREAM EVER
This shaving cream is so good, it's not just an amazing shave cream but it's a moisturizing treatment for the skin. My skin is in better condition after using this product. It effectively guards against the harshness of razor blades, yet it doesn't get too thick and it doesn't gunk up the razor. This is great not only for the face and neck, but I also use it on the bikini area and get fantastic results. Bravo Jack Black! The Best - 5 Stars
I received a free sample of Jack Black Triple Cushion Shave Lather in the mail from LovelySkin. I don't normally try free samples, but it was shaving cream so I thought why not. I mean how bad could it be? When I say I was blown away at the results, I mean it. The razor felt like it was gliding over my skin. No pulling, scraping or after-burn of any kind. Shaving was effortless, and my face felt amazing. The results were easily the best shave of my life. Really the Jack Black family of products for men. LovelySkin Customer
Verified Purchase
Best shaving cream!
My husband has been using this cream for years, and he really likes its quality. Thank you! LovelySkin Customer
Verified Purchase
My new favorite shaving cream
A little of this rich shaving cream goes a long way. Works well for shaving your face as well as your head (bald head). Leave your skin smooth but not oily. LovelySkin Customer
Verified Purchase
Husband loves it
This was my second order for this shaving cream for my husband. Lasts a long time, stops razor irritation and leaves face soft and smooth. I ordered another for my son's Christmas present since my husband likes it so much. LovelySkin Customer
Verified Purchase
Love this stuff!
I stock up on this whenever I see a sale. Great product, keeps my skin smooth so shaving is a breeze buffaloprince
Verified Purchase