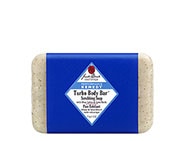 Reviews For
Jack Black Turbo Body Bar Scrubbing Soap
$15.00
5 Results
Great Soap
This soap does exactly as promised. It gently scrubs away all the bad skin. I highly recommend the product. You won't be disappointed. LovelySkin Customer
Verified Purchase
For tougher skins
This is a fairly rough way to exfoliate–not for more sensitive skins for sure. The best use I've found so far is washing off water-resistant sunscreens, when you don't want to deal with a washcloth. I don't much care for the scent, but some people might love it. LovelySkin Customer
Verified Purchase
Excellent Body Scrub
My husband received a body bar for XMAS and really enjoyed how it made his body feel, so I ordered another bar from LovelySkin as he is hooked now. He likes the fact that it is an exfoliant, and leaves his body smoother. Will continue to purchase. smells great
This scrubbing bar is really great quality. It lathers up really well, the grittiness level is medium (not too rough, not too wimpy), and it does feels very moisturizing. The bar is kind of squared off, like a brick, and melts slowly, so it lasts a long time. the scent is a very light rosemary/herbal. LovelySkin Customer
Verified Purchase
Fabulous exfoliating soap
This scrubbing bar is great, I absolutely LOVE the way my skin feels after I use it. The only way I can describe the way it smells is like pepper. Im sure it is meant for men, but if they offered it in a good smell (like their awesome lip glosses) I would rate it a 5 star. PS...my husband loves this bar also. LovelySkin Customer
Verified Purchase