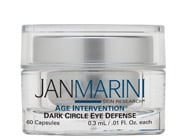 Reviews For
Jan Marini Age Intervention Dark Circle Eye Defense
4 Results
It really worked for me!
I have been using this product for several years and cant remember having dark circles under my eyes. I use this product at night and Jan Marini Eye cream during the day. The combination is awesome. LovelySkin Customer
Verified Purchase
Undecided
I use Jan Marini's Age Intervention Eye Cream regularly and LOVE IT! But decided to try her Dark Circle Eye Defense, as at nearly 60 and being half Greek, I have genetic dark circles that I'd like to get rid of. I'm about half way through my first jar and haven't noticed much of a difference in the dark circles. What I HAVE noticed is that the product hasn't done much at all in the way of moisture around my eye area and the crepiness seems to be worse now than before. The jury is still out on this product. LovelySkin Customer
Verified Purchase
Wonderful product
This has helped the dark circles around my eyes tremendously. The first product I have found that really works. LovelySkin Customer
Verified Purchase
Excellent product!
This product really works. I have genetically dark under eye circles because of my ethic background. This is the only product I have ever used that transforms them. No more dark circles plus the skin around my eyes is firmer and less lined. This product comes in capsules and I tend to use one capsule over a 3 day period at night. LovelySkin Customer
Verified Purchase