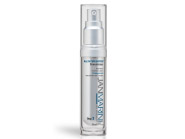 Write a Review - Receive 50 Rewards Points!
Tell us your thoughts about Jan Marini Age Intervention Transitions so we can help you find the right products. With your review, you'll also receive 50 Rewards Points. Please note that it may take up to 72 hours for a review to appear on site. All reviews are subject to moderator approval.
Write a Review
10 Results
Ive FINALLY found my go-to hormonal acne solution-JAN MARINI AGE INTERVENTION TRANSITIONS!!
After years of searching for the effective product to help me clear adult hormonal acne- I have FINALLY found it in JAN MARINI AGE INTERVENTION TRANSITIONS!!! I am SO pleased how quickly this product clears up any pimple- without drying my skin, without leaving a scar...AND without causing me stress!! This product is A+ AMAZING!!!
Truly Transformed My Skin - No More Breakouts!
At my doctor's recommendation, I use this product 2x/day, and it has truly transformed my skin. I'm 41, and I've never considered myself an "acne-prone" person - not like those poor people on ProActive commercials who are covered with zits. But for many years, I have lived with an annoying cycle of break-outs that went something like this: Every few months, I would get a huge, red, painful pimple, ALWAYS on my chin. I would try to leave it alone, but inevitably squeezed it, picked it, etc. The pimple would last 1-2 weeks, then leave a scar that took 4-6 months to fade. Before the scar was completely faded, a new pimple would appear on my chin, and the cycle would start again. At any given time, I had 3 or 4 gray acne scars on my chin. Since I started using Jan Marini Age Intervention Transitions about 15 months ago, I have had only ONE pimple - and that's because I went away on a 4-day trip and I was too lazy to bring my skincare products. Never again! I don't know if this product works brilliantly on its own, or in conjunction with other products. I also use JM Bioglycolic Cleanser & Bioglycolic BioClear, both of which work to battle adult acne. But as a group, they are working brilliantly for me.
not a match for sensitive skin
i have very sensitive skin and get frequent hormonal acne. this lotion helped to improve the texture of my skin and fade some acne spots. it does, however, smell awful (kind of like a skunk smell) so i could not wear it during the day because coworkers and clients (as well as myself) were affected by the smell. also since my skin is sensitive, i could not use the product more than 2x per week or my skin would start to dry out and flake. i will not be buying this product again, but i think it will work great if you have the right skin type.
Effective
This product does live up to its claims. It makes my skin feel clean and I do have faith that in the long term my skin will continue to improve. It has helped in battling oily zones and with adult acne. I love lovelyskin and will only buy beauty products from them because I know they carry quality products.Also, the staff is friendly and prompt. I would encourage you to do the same and not buy from amazon or other unknown vendors when purchasing Jan Marini.
Night cream
I use this every night before bed and my skin looks much better than a year ago
Jan Marini Age Intervention Transitions
This product actually works for stubborn acne occurring during transitional years. You WILL be pleased with the results. Twice a day after cleansing will maintain clear skin.
Great Product!
Smooths and moisturizes. I have been using this products for 3 months and have noticed a huge difference in the texture of my skin. I would highly recommend it!
Unbelievable
I have had hormonal perimenopausal acne for 2 years and have tried almost everything. I can't believe this product has my skin clearer than any other. I don't have the deep painful bumps and the smaller but very irritating and numerous comodones have almost disappeared after 2 months of use.
works well
seems like it works well.
Still Waiting for Big Results....
Jan Marini Age Intervention Transitions promises a lot. I wish it came with directions on how to use it and what other products works with it. I'm still waiting for it to keep my acne at bay and even out my skin tone and discolorations from previous acne. The product does feel wonderful on your face, almost as if you can feel it working, it gives you a glow and makes your skin smooth to the touch. It smells nice too. I've noticed my crows feet and laugh lines aren't as noticable. I will try this product one more time to see if the rest of the promised results kick in. I have tried a lot of different products and I'm hoping this one turns out to be my little miracle in a bottle. Kim Pittsburgh, Pa