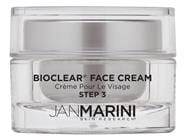 Reviews For
Jan Marini Bioclear Face Cream
$78.00
88 Results
Great product
I have been using this product for at least 10 years. I don't write many reviews but this is worth writing about because it is a fabulous product that really enriches my skin. It stings a bit when you first use it or if you take a break and return to it— which is a result of the fruit acids which are exfoliating my skin. I often get complements and am usually told I don't look my age ( which is 70) and I totally credit this cream. I have no reason to praise it except that I really love it and if I had to choose Just one skin product it would be this. I also love the transformation cream as a moisturizer. Just sayin. LovelySkin Customer
Verified Purchase
Essential Component for your Skin Routine
This product is absolutely amazing! It makes your skin supple, improves the texture of your skin, reduces pores, reduces fine lines, and clears blemishes. If you have not tried this product, I highly recommend it. ESG4242
Verified Purchase
Evens skin texture
Evens skin texture and fine lines. This bioclear also adds a youthful glow to the skin as well as it removed a lot of my build up. Good for clearing acne and texture issues. LovelySkin Customer
Verified Purchase
This has helped my skin so much!
I'm 26 and have been struggling with hormonal breakouts for the past 3 years or so. I've been left with post hyperpigmentation spots as well as active breakouts. I've been using this cream at night for about 2 months - just about every night and my skin has never looked better! It has really helped me get control of the breakouts. AND it has improved the scarring/dark spots tremendously. This cream does sting a bit still here and there for the first few minutes but it passes. I absolutely love this product and am so grateful for it ! Best product ever!
My daughter and I both use this product now. It Keeps our skin healthy and clear. I won't go without it! LauraandGracie
Verified Purchase
Jan MariniBioclear face cream
Effective product especially when face has worn sunscreen all day Helps brighten skin and does not dry it out LovelySkin Customer
Verified Purchase
Cell turnover improved
I definitely think it helps with cell turnover speed/natural exfoliating. I only use it a few times a week, at night. Sometimes I'll put it on a blemish and it seems to speed healing time LovelySkin Customer
Verified Purchase
Bioclear cream
I use both Bioclear lotion and this one in the mornings. My face is aclimated so I use it 5 times a week and take 2 days off. You can get a good amount of exfoliation using both which I like. I only use it on the face. Tried using both on the neck and cause some irritation. But has helped with texture and pores. Super happy with both products. LovelySkin Customer
Verified Purchase
Great Glycolic Product
Works great to exfoliate, I use at night and face feels so smoothe in morning. It's a pretty strong formula, my skin is very tolerant to AHA, s and when I began using this roughly every other night in late Spring, I had no problem tolerating it on my face and neck. But more recently with the warmer weather and getting more sun exposure, my neck became uncomfortably tingly after applying. So I've decided to use only 1-2x per week during the summer(note: I do use at least spf 30 during day), and to apply on face only. LovelySkin Customer
Verified Purchase
Jan Marini Bioclear Face Cream
This product was much too greasy for my skin. Prefer the Face Lotion not the Face Cream. If your skin is really really dry I would think the face cream would work better for you. The lotion tightens my skin and works like magic to hide my wrinkles ! Love love the Face Lotion! LovelySkin Customer
Verified Purchase
Silky
This cream is very silky and smooth. Like that it doesn't make your skin feel greasy. I think maybe the transformation cream might give better results for wrinkles though. Still good product. Great results
I have been using this cream for the last three months and have noticed a big difference in the clarity of my skin. This cream is a game changer as far as keeping the skin smooth and clear. Being 68 years old my face has an uneven skin tone and discoloration and this amazing cream evens out the tone and discoloration. I bought the whole Jan Marini four piece skin care package and love everything in the group. I will definitely be reordering as I do not want to be without. dsnc109
Verified Purchase
Jan Marini Bioclear Face Cream
I needed the bioclear face cream to help my pores to be cleaned and get smaller! I'll see! Janybug
Verified Purchase
My go to
I absolutely love Bioclear cream. My skin texture and brightness are really effected when using this. I have used the Bioclear lotion also and it isn't as good as this. The packaging needs work because the glass often breaks and gets in the product. I just put it in another jar before that happens. MichelleS
Verified Purchase
Love this cream
Jan Marini transformation cream keeps my face moisturized all day and my foundation works well over it. No foundation "slide" or gunking up. Jan Marini is always my "go-to"
I've ben using this for years in addition to other jan marini products. I love the bioclear in that it turns my cells over quicker for a younger appearance. When I haven't used it, skin looks duller and less youthful kbcolorado
Verified Purchase
It's a Miracle
I've been using this product for 15 years. My aesthetician told me it was originally created for acne, but don't let that scare you away. It is NOT drying but transformational! My 65 year old skin looks decades younger—due in a large part to Bioclear. LovelySkin Customer
Verified Purchase
Bioclear face cream, step 3
I used Bioclear cream for about one year now. It was my last treatment resort because nothing worked before, and I was told by my dermatologists that cysts that I had over my face are resistant to treatments. At first, I used the cream once a day/pm for several months, after my skin got used to it, twice a day with very good results. My skin is on the dry side and tolerated the cream well. I think it has some moisturizing property. I also had enough problem with blackheads. Both cysts and blackheads are gone.This treatment takes time and patience, definitely effective. LovelySkin Customer
Verified Purchase
Smooth Face
I've been using this product for about two months. I'm very pleased with the results. My face looks smoother and the skin color seems more even. This is part of my daily routine. Jan Marini products work well for my mature skin. LovelySkin Customer
Verified Purchase
I like it
I bought this to complete the Marini skin care routine. I can still get breakouts at my age. I haven't had any since adding this in. It doesn't irritate my skin at all. I'm glad I bought it. LovelySkin Customer
Verified Purchase
Jan Marini Bioclear Face Cream
I use Jan Marini Bioclear face cream as part of my skin care routine every morning and every other evening. This product works well in concert with Jan Marini C-Esta Face Serum & C- Esta Face Cream. You use a small amount of this product to keep the skin's pores clean as this product contains Salicylic Acid among it's other ingredients. I have built up to using this product twice a day as it can cause the skin to become a bit red initially. It does seem to help balance the richness of the C-Esta products and eliminates milia. It causes a gentle exfoliating action which benefits the skin when used conservatively, and in conjunction with the other products I have mentioned. I have also allowed my son to use this product on his keratosis pilaris (bumpy Skin) on his arms, and it has helped. I definitely recommend this product. LovelySkin Customer
Verified Purchase
Bioclear Face Cream
I have enjoyed this cream. It does not make my face dry, and my acne has decreased. LovelySkin Customer
Verified Purchase
Really works
I've used Jan Marini products on and off for 20 years. This cream is one of my favorites as it really works to keep my skin clear, whilst providing excellent moisturization. LovelySkin Customer
Verified Purchase
Wonderful
I purchased this cream primarily for my husband who suffers from occasional breakouts and adult acne. I was introduced to the Jan Marini product line over 10 years ago while working as a receptionist in a salon. I find Jan Marini to be super results driven products. Bioclear promotes clear skin with out drying. It is great for mature skin and probably fabulous on young skin. Thanks to Lovely Skin and their wonderful sales we can afford to keep it a part of our daily skincare ritual. LovelySkin Customer
Verified Purchase
Cream VS Lotion ?
I am dealing with oily aging skin that is also still prone to acne. After placing my order, I realized that I probably should have bought the lotion over a cream, to try. While the cream is not greasy something in it did not agree with my skin. The cream does absorb fast with no stinging but did nothing for existing blemishes and in fact did cause a few more. I do not fault Jan Marni as I feel I didn't choose the right form of the product. LovelySkin Customer
Verified Purchase