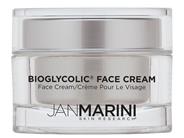 Write a Review - Receive 50 Rewards Points!
Tell us your thoughts about Jan Marini Bioglycolic Face Cream so we can help you find the right products. With your review, you'll also receive 50 Rewards Points. Please note that it may take up to 72 hours for a review to appear on site. All reviews are subject to moderator approval.
Write a Review
17 Results
Bioglycolic face cream
I have been using this cream for 17 years and absolutely love it. It leaves my skin feeling soft and moist looking. I get many compliments that I don't have any wrinkles. I'm 75 years old.
Bioglycolic Face Cream
I have used a Jan Marine Face Cream called Bioglycolic Bioclear Face Cream for the last 10 years and have loved it. I started when a dermatologist RN told me to try it for rosacea pimple breakouts, and it worked overnight. Amazing. In the last 2 years, the formulation has changed and now Jan Marini has 2 face creams, one Bioglycolic, and the other Bioclear. I am using the Bioglycolic, but the formulation is not as good as the previously combined cream. It doesn't soak all the way in but leaves a white residue on my skin for a while, which is gone in the am. It also is not as strong on pimples as previously. I sure wish I had the old formulation back again.
Excellent product!
This is great even on my oily, clog-prone skin. It does not absorb easily, not sure why. I love the high percentage of glycolic acid, and it does not sting.
Luv this product
I use all Jan marini products. They are pricy but worth it. They make your skin feel wonderful.
Jan Marini Bioglycolic Face Cream
My hairstylist suggested I use Marini products especially the Bioglycolic cream since I had adult acne outbreaks. I have been using this for years now and only occasionally have a bump or two. I have used others but this one works!
Jan Marini Bioglycolic Cream
It makes my face feel alive!
Disappointed
I have used Jan Marini Bioglycolic Face Cream for years with good results. Either my skin or the product has changed, however. The product now irritates my skin, resulting in reddening. I have very good skin and this product is no longer appropriate for my use.
Just not my favorite...
I found Jan Marini products through LovelySkin reviews. I'm a huge fan of exfoliating, but this cream is a little harsh & I can tolerate a lot of products. It makes me break out.
Yes! to Bioglycolic Face Cream
I have been using this product for the last 4 years or so. I would not go without it. Helps to slough off top layer of skin. Keeps my face even-toned and fresh looking.
Great product
I am 34 years old and I wear this product morning and night to help keep my skin hydrated and pimple free ( well mostly but the occasional pimple is manageable for my skin.) Also, I dont need to use benzoyle peroxide which helps my towels, clothes, and sheets from getting bleached. Blessing! The price does keep raising which is very frustrating but between buying it only on sale and only having to use this one product then it isnt too bad. If they raise it more and stop having the occasional sale then I will stop buying it. Which would be a pain to find another product that works as well as it does.
JAN MARINI BIOGLYCOLIC FACE CREAM
I love this product. I have very dry skin in the winter and this is the first face cream I have used that was able to keep my face hydrated! I will definitely buy again!
Wonderful
Wonderful, but to expensive. I have to use it anyway because my skin needs it, but I wish she would stop raising the price.
PROBABLY THE BEST PRODUCT JAN MARINI MAKES
I have been using this product for over 3 years now. It is wonderful. My skin stays moisturized. It keeps my pores small and keeps me from breaking out.
Bioglycolic Cream
Jan Marini Bioglycolic Cream is a regular part of my skin care routine. Recommended by my skin care professional, this product is an essential part of fighting the aging process!
Bioglycolic cream
I needed something for more hydration along with my Jan Marini Age Intervention Cream this seems to fit the need.
Amazing
This is the best stuff for resurfacing, and acne I have ever used. Evelyn McGlothlin