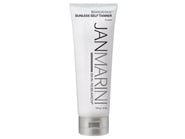 Reviews For
Jan Marini Bioglycolic Sunless Self-Tanner
Natural Tan
This product gives an amazingly natural tan. I will buy it again. LovelySkin Customer
Verified Purchase
nice color
I mix the Jan Marini self tanner with my regular body lotion. This gives a more natural look and develops at a slower pace. Will purchase again. LovelySkin Customer
Verified Purchase
Good for people with fair skin
I have used almost every self tanner out there. This takes a few days of application before the color builds up. It is not an instant tan, but it also doesn't have the instant fake tan colors that rub off on your clothes.It is a white lotion, and if you are accustomed to applying tanner, you will know that it should be applied sparingly and uniformly, avoiding rough areas like ankles and elbows. It takes a little more care to apply evenly, because there is no color to the product to help guide you. There is a very slight odor, which dissipates. Unlike every other tanner I have ever used, this is the most acceptable from an olfactory sense. Most self tanners have a strong odor I can't stand. So if you are willing to be patient for color to develop, and painstaking in your application of the product (be sure to wash hands thoroughly with soap and water after), and have fair to light skin, this is theproduct for you. I would also add that many self tanners hav a drying effect on the skin.. To my delight, this product does not appear to dry out the skin as others do. I have tried different self tanners..my personal experience
Nice product for those who want a sunless tan. It states that their is "no smell", and for the most part, that is true. There is absolutely no smell to this product when you apply the lotion. I only noticed the typical "smell" much later in the night only as the tan started to develop, and it was very, very light in scent. (This is something that someone using self tanners can not avoid as the developing chemical on the skin just has that scent. If you ask any dermatologist, they will also tell you the same.) So, as far as self tanners are concerned, this is a very good one with almost no scent. Just be careful when applying, as this is a lotion and if you do not rub in the product good enough, you can have spots that show. I would also suggest for anyone trying this product out to try a test spot, as we are all different and the product may develop much more quick on one person versus another. (It took over 5 hours to develop on me.) I have been using this product in conjuction with a professional spray tan, and have been using this product on my hands and face, as those are the areas that fade very quick for me after I spray tan due to constant washing. The product has blended in very nicely, and has not broken me out. LovelySkin Customer
Verified Purchase
Great Tan
I have fair skin and I have never tanned in my life (always burn!), and yet, whenever I use this I get comments on how great my tan looks. Since it looks so natural, I have no problem telling people that it comes from a tube and they are always surprised. I have used many self-tanners over the years and this is, by far, the best. LovelySkin Customer
Verified Purchase
no better than any other brand
I am a JM aficianado for skin care so thought this would be good. It is terrible for me. It is completely unforgiving if you get even a little too much anywhere. It does not look natural even with a very thin application. I have very pale skin and this looks a bit orange. My husband can not stand the smell. I am throwing mine out LovelySkin Customer
Verified Purchase
Love it!!!!!!!!!
This is by far the BEST self tanner cream I have ever used!!!! I would recommend it to anyone! I have very fair skin and when I use this, I look like I've been on a fabulous vacation and get many compliments! LovelySkin Customer
Verified Purchase
The best color
This is by far the best self tanner I have used. The color is great and natural looking. It only took two applications for the coverage that I desired. The other plus is that it contains glycolic acid which really makes the skin feel smooth. I will definately purchase again! LovelySkin Customer
Verified Purchase
excellent product for sensitive skin
I love this. I haven't broken out from it and it smells just fine. I will say that it's best to start out with a light layer of the product though. LovelySkin Customer
Verified Purchase