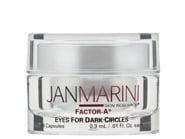 Reviews For
Jan Marini Factor-A Eyes for Dark Circles
6 Results
Dark circles lightened. Reviewed by Phyllis W. of Scotts Valley, Calif.
This product was recommended to me by my anestheses, and I couldn't be happier.It works very well for me, although it did take about 6 weeks before I saw improvements. There are 60 vials in each jar, and you can use each vial at least twice, if not 3 times, so you really have a lot to work with. Give it time. It is a little expensive so I want to use all of it, and it does take a little time. Good stuff and I love it!, LovelySkin Customer
Verified Purchase
Works fairly well
I ahve yet to find an undereye circle product that really works well, but this does seem to make the appearance improve by maybe 30%. LovelySkin Customer
Verified Purchase
Eyes
These are great eye capsules- they have reduced my circles greatly LovelySkin Customer
Verified Purchase
For dark circles
This product works well...it took about a week of once nightly use before I started noticing the difference. But with continued use it has really helped in making the dark circles around my eyes less, and less noticiable LovelySkin Customer
Verified Purchase
It really works.
This product does work but you must use is consistently. The dark circles under my eyes improved after (approx.) 6 weeks of use. I wouldn't have stuck it out that long, but had been advised by another user of this product to do so. It has lightened my circles by almost 50% and it's easy to apply...just follow the directions. LovelySkin Customer
Verified Purchase
Awesome new product!
I love this eye product. I noticed the improvements immediately. I love how the exact amount you need to use is found in each capsule. Use it twice a day too for even better results! LovelySkin Customer
Verified Purchase