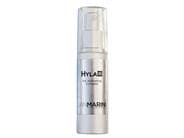 Reviews For
Jan Marini Hyla3D HA Activating Complex
$127.00
Great product
This product is soothing and lightweight. Love how it makes my skin feel. LovelySkin Customer
Verified Purchase
Love this
Buying this is a must. If you have flaky skin, lines, wrinkles this product will take care of it all. I am new to this product and so grateful for it. A little bit goes a long way and the container is very pretty wild2020
Verified Purchase
Moist
Face feels hydrated LovelySkin Customer
Verified Purchase
Great moisturizer for problem skin.
I have dermatitis and rosacea many moisturizers break my face out worse. This product really helps keep those areas hydrated without making the breakout worse. Great moisturizer, not greasy at all, absorbs great. Love it! ChooseJesus
Verified Purchase
Skin loves it
My skin loves this product. The Hyla 3d keeps my skin smooth and moisturized. I use it right before the transformation cream twice a day. LovelySkin Customer
Verified Purchase
Smooth and hydrating
This serum is a heavy and thick serum which makes it difficult to layer with cream. It is nice, but when you apply your night cream, it may peel off LovelySkin Customer
Verified Purchase
Jan Marini Hyla3D HA Activating Complex- B+
I have severely dry & dehydrated skin and definitely do feel a great difference with this serum!! But I definitely need to add a B3 or B5 serum in conjunction with it along with my moisturizer as a daily routine to feel the full benefits of getting my skin moisturized & (or) prepared for makeup. LovelySkin Customer
Verified Purchase
Jury is still out
I love Jan Marini C-est and Retinol+ serums, and her Sunscreen, so I thought I'd try her hyaluronic acid serum, since this ingredient is getting so much buzz these days. I've only used it a few weeks, and not every single day, so it's hard to say how this will perform over the long run. I usually think that there are no "quick fixes", so I'll reserve judgment till I've used a bottle before I decide about reordering. I have combination, "mature-ing" skin, and I've been using this product combined with either J.M C-Esta in the a.m. or with J.M. Retinol + in the p.m. At a few weeks in, I am not quite as impressed with this as other products in the Jan Marini line, yet I'll update after a bottle! LovelySkin Customer
Verified Purchase
Not Great
Have been using HYLA 3D for about 2 weeks, so far, no improvement, website said would take a month for any noticeable results, so I am right in the middle. Will review in another 2 weeks. LovelySkin Customer
Verified Purchase
So far, so good!
I am on my second week of using this product and so far, I really like it. I'm hoping for the results that are in the description. LovelySkin Customer
Verified Purchase
Waiting for results
I've been using this for about two weeks now and I haven't really noticed any sort of a difference in the hydration of my skin. I'm hoping soon to see some results. LovelySkin Customer
Verified Purchase