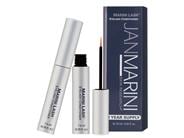 Reviews For
Jan Marini Marini Lash Eyelash Conditioner 1 Year Supply
Cannot recommend
I was searching for an eyelash conditioner that promotes lash growth &/or fullness that did not contain Prostaglandin analogues (Latisse, etc.). I chose the Jan Marini Eyelash Conditioner based on the ingredients. Unfortunately, this lash conditioner burned my eyes and exacerbated eye dryness. LovelySkin Customer
Verified Purchase
This works!
I've been using marinilash for about 5 months, it's wonderful! I've had no long term side effects (mild stinging if it gets in your eyes) and have been asked by several people if I have lash extensions. It does take a little while to notice a difference, I would say about 2 months after I began using it is when I began getting compliments on my lashes. I plan to keep using this product. LovelySkin Customer
Verified Purchase
Just started
I usually buy rapidlash, which I love but thought I would give this a try! Just started using it...too early to tell if it works! It doesn't irritate my eyes and is easy to apply. So thumbs up! Healthy, long eyelashes!
Been using Jan Marini Eyelash Conditioner for many years. Am pleased with the product as it does what it says it will do: nourish and enhance my eyelashes. My eyelashes grew longer and more supple at first and as I continued to use the product, they stayed well-nourished and supple. I now use it every other day or so to maintain my healthy lashes. If you want a product that works well without causing annoying side effects, this lash conditioner is the one. It works slower than "miracle" conditioners but it is also more gentle and - I feel - safer for my sensitive eye area. LovelySkin Customer
Verified Purchase
Works for eyebrows, too!
I have used this before and I know how well it works. What I did not realize, you can use it on eyebrows too. I already see a difference. I will never be without this product again! LovelySkin Customer
Verified Purchase
Longer lashes
I had great and significant lash growth since using this product. It's even helped fill out my sparse eyebrows. LovelySkin Customer
Verified Purchase
marini lash
have had the product about a month now and seen noticeable improvement in the length of my lashes. LovelySkin Customer
Verified Purchase