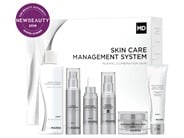 Reviews For
Jan Marini Skin Care Management System MD - Normal/Combination Skin
$370.00
9 Results
Excellent quality
Great products when used together and consistently Brightening, smoothing, soothing
Keep coming back to Jan Marini products for smooth, brighter, smoother, less irritated skin after trying various other product lines. Improved my redness from rosacea while also improving hyperpigmentation that had not responded well with use of hydroquinone products in the past. So glad I've come back to JM products! The product line seems tedious at first, but each product works well and compliments the next. Vitamin C serum is soothing and brightening! The. Transformation cream isn't heavy; it's nice to have a face cream I can use AM and PM that feels like on my sensitive combination skin. LovelySkin Customer
Verified Purchase
Truly enjoying product Jan Marini Skin Care Management System MD
This skin care package was recommended by a facialist. I have been using the products for 6 months. I truly enjoy the results. I look forward to trying other Jan Marino product. LovelySkin Customer
Verified Purchase
Liked a few products!
Overall, I wouldn't buy the set again. I did not like the face wash or the moisturizer. I did like the c-esta serum and the sunscreen for summer. LovelySkin Customer
Verified Purchase
True story!
I had been using the line for a month or two and could not be happier with the results. I was in an art gallery and the gentleman working there stopped me and said, "Oh my goodness your skin looks amazing. You're just glowing!" It's not the cheapest program, and it's not not most expensive I've tried either, but it's definitely the best! As an added bonus, I am saving a ton of time now that I can ignore the constant barrage of skin care advertisements! LovelySkin Customer
Verified Purchase
Love these products!
The extra product in the MD system was worth the extra cost. I tried to order it again today but it was sold out. Skin Care Mngmt System
Love Jan Marini products. I have seen a significant improvement with my skin using her product line. LovelySkin Customer
Verified Purchase
Renew
Jan Marini has helped my facial skin become brighter. I had acne scars and this product helps fade the scars with out irritating it. It leaves my skin soft and makes my complexion even. My husband doesn't notice difference in my hair cuts but he noticed the changes of my skin when using this product and he loves it. I also find that because I use this product and it evens my skin tone it's easier to find foundations that match my tone. I'd buy it again and again! LovelySkin Customer
Verified Purchase
Jan Marini Skin Care Management
I have been using Jan Marini for several years now and LovelySkin has let me buy the MD! Thank you so much Janybug
Verified Purchase