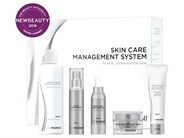 Reviews For
Jan Marini Skin Care Management System - Normal/Combination Skin
$310.00
8 Results
Definitely worth spending the money!
I put off getting the whole system at once bc of the price but once I have started using this it was sooo worth it! My skin is glowing and def going to continue using! LovelySkin Customer
Verified Purchase
Jan Marini Skin Management Program
The best skin care I have tried. I used it before and loved it but decided to try something else because of the price and now I am back because you can not put a price stick on your skin health. syelena
Verified Purchase
Jan Marini Kit
I Love almost everything in this kit ! Not a huge fan of the cleanser and still on the fence about the bioclear face lotion (step 3 ) ...I Highly recommend and give 5 stars to the C-esta serum (step 2) , transformation face cream (step 4) and the sun screen (step 5) . I have been using the transformation face cream and sunscreen for years and will never use anything else !!! I decided to buy the entire kit because I watched the zoom call with Jan Marini And learned about how it works synergistically with one another so decided to give it a try. Not sure if I'll buy the entire kit again . I guess I'll know more in a few weeks. LovelySkin Customer
Verified Purchase
Love this line!
My skin has changed so much using this line! I am all in! I am 62 and in month #4. It's worth every penny! Amazing
I read a lot of reviews before purchasing items; however am never sure if they are legitimate or not. I hope this review will help you in your decision to purchase the Jan Marini line. This is the only skin care line that I can honestly say showed results. The 11 lines have definitely improved. I get Botox in this area, am about two weeks past due on the injections, and using this skin care line has taken the 11s where Botox could not. I can't say enough about how pleased I am with the Jan Marini kit. LovelySkin offers great deals no one else does as well as impeccable customer service. It is well worth the money. Excellent System
This is an excellent system to treat hormonal acne. It's costly but truly worth the money. It's the only product line that helped my skin. LovelySkin Customer
Verified Purchase
Marini Skin Care Management System
I love this skin care product! My skin feels cleaner and softer. The fragrance is pleasant and not overpowering! Jan Marini Products
I love Jan Marini products! They do the job they are designed to do.