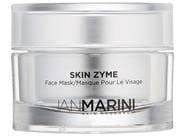 Reviews For
Jan Marini Skin Zyme Mask
$68.00
31 Results
Perfect face mask
After using this product my skin looks younger, because it helps to remove dead skin cells. Little bit tingling. SkincareVera
Verified Purchase
Fantastic non-irritating mask
I tried the JM SkinZyme mask years ago and didn't like it. Over the years they must have made some improvements because the product I've been using lately is wonderful. It does a great job of cleaning pores, refreshing my skin and and leaving it smooth and hydrated all without any irritation. I'm 70 and my skin is sensitive, so this is saying quite a lot! I'm glad I tried the product again and definitely recommend it. Gentle and effective
Most of the time I don't enjoy gentle masks because I don't see a result. This mask is amazing! My skin feels so good afterwards but isn't overly irritated. LovelySkin Customer
Verified Purchase
Mask
Very gentle mask. I love the way it makes my skin feel. I have used this mask for many years. LovelySkin Customer
Verified Purchase
Love this Mask
I love that this mask helps with removing dead skin. Also works better with skin zyme face wash. ok
I really don't see a lot of difference in my skin using this product. It was highly recommended so maybe it might work better for others. I love the Jan Marini line, but this particular product did not seem to show results. Nothing bad, just no visible improvement. Great to clear skin
Great for getting rid of dead skin that clogs pores. LovelySkin Customer
Verified Purchase
Fave mask
This has been my favorite exfoliating mask for many years. Feels more like a moisturizer but exfoliates gently and sloughs off all the yuck. Leaves my skin glowing! It is a must have! LovelySkin Customer
Verified Purchase
Look no further
This is the best mask hands down! Love it! Best for dry flaky areas. Perfect for once a week maintenance! Acaplan
Verified Purchase
Gentle mask, post-procedure friendly!
I love this mask, it is very gentle and great post-procedure to remove excess dead skin cells. This works great post-peels to gently remove residual peeling skin. It really helps speed the down-time! It's also wonderful as a gentle exfoliating mask when you need some extra pampering. Love it when used with the Clean Zyme cleanser! LovelySkin Customer
Verified Purchase
NIce, gentle exfoliating
I like this mask along with the cleanser because I can use it a few times a week without irritation, and it helps keep my skin clear and exfoliated. LovelySkin Customer
Verified Purchase
Fabulous Exfoliant!!!
Jan Marini is one of my staples in skin care. I trust this line implicitly. This exfoliant removes dead skin cells and leaves my face feeling fresh and smooth. Makes my skin feel alive!! I use regularly once per week. LovelySkin Customer
Verified Purchase
Mild yet effective
This mask does a great job exfoliating my skin. I am a huge fan of Jan Marini. I find the fragrances quite mild and the products never irritate my skin. Not only that, but I see results and this product is no exception. I use it once a week and find that it keeps that dull look at bay. LovelySkin Customer
Verified Purchase
Best mask for decongestant oily skin
I have been a fan of Jan Marini products for a long time. The enzyme mask breaks down oil and keratin with a papaya formula. Think of Adolph's Meat Tenderizer, the papaya in the product breaks down protein and tenderizes the meat, same principle. This is a wonderful product for oily skin prone to blackheads. I recommend masking every other week for noticeable results. LovelySkin Customer
Verified Purchase
Lovely masks
This is now my favorite mask to use. My skin looks so even toned and smooth after using. I also find it very soothing on my sensitive skin. It's a must-have item in my cosmetic cabinet! Refreshing
My skin feels clean and refreshed after using this mask. It does seem to be drying so I only use it once a week and am sure to put on moisturizer after I wash it off. LovelySkin Customer
Verified Purchase
Great gentle mask
I was worried to try this because some of the reviews mentioned it was a little harsh at first and I have sensitive skin. However I never had any issues leaving it on for 20 minutes. I use it once a week and feel my skin is a little brighter. It's not my favorite product in this line, but is nice and refreshing. LovelySkin Customer
Verified Purchase
Wonderful mask
I give this 4 stars because it feels so great when I use this mask daily. I know it's pricy to use it that much but my skin is dry from acne products so this really helps loosen the dead skin up. I left off one star because the amount of product for price isn't that great but you can use this less often and stretch your money. Also I wish it exfoliated a bit more because I do have to scrub my face after or dead skin stays. That may be because my skin gets really dry. So far it seems to work well with my combo/acne without flaring it up so I'll buy until I see something negative. LovelySkin Customer
Verified Purchase
Gentle Mask
It s bright the skin a bit but I am not sure if it is because of the mask or because of my Jan Marini C serum. But it is a gentle mask. LovelySkin Customer
Verified Purchase
Love this product
This product really goes the extra mile in making skin appear clear, smooth and calm. I agree with another reviewer in that the results feel like a facial in a spa. I didn't have any down time afterward. I couldn't stop touching my skin. I admit that once I saw the initial results, I subsequently have left the masque on longer (sometimes much longer) then recommend. I have no idea if this helps my skin or could cause problems for others, but it may have a positive effect in my perception of what I am doing for my skin's apperance. I also use the cleaner recommended in removing the masque. Great mask
The person who gives me my facials recommended this product. I have been using it at home for about a year and love the results. Skin looks and feels very refreshed after you use it. Also seems to help with breakouts (have them less often when I use this regularly). Highly recommend if you want an easy but effective mask to use at home. LovelySkin Customer
Verified Purchase
Smells great, nicesoothing mask
I purchased this mask after it was recommended during a facial I recently had. So far I really like it! It smells great and leaves yourskin feeling refreshed and soothed at the same time. I also purchased Jan Marini day face protectant and like it too! LovelySkin Customer
Verified Purchase
Like a facial but at home!
This is the best product i have ever used that makes your skin look like you just had a peel. I slather it on my fave after a quick shower, fill the tub and saok and read. After about 15 minutes I drain the tub shower and use the green zyme to smooth it off my face. You would not believe how your skinn absorbs your moisturizer and the next day your skin is beautiful! LovelySkin Customer
Verified Purchase
noticeable difference after i finish the mask
I can feel the difference on my skin after I rinse off the mask - it is noticeably smoother, eating away all the rough skin that builds up. I also like that you can feel a gentle heat from it while it works. Another Jan Marini product in my arsenal of acne-fighting tools! LovelySkin Customer
Verified Purchase
My skin glows
I haven't had a lot of feedback from those around me, but I'VE noticed that once my make up is off, my skin has a very smooth appearance. I'm anxious to use it a bit longer to see if it has any effect on my hyperpigmentation. LovelySkin Customer
Verified Purchase