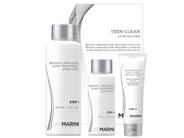 Reviews For
Jan Marini Teen Clean 5%
Awesome product for teens/young adults with acne
I use Jan Marini products as my skin care regimen and absolutely love the results. My 19-year-old daughter continues to have acne issues even though we have tried many acne lines from other skin care providers, along with prescription medications from her dermatologist. Since I love the products that I use from Jan Marini, I thought that my daughter should try her acne line. We chose the 5% Teen Clean line over the 10% Teen Clean line because we didn't want the products to be too drying for her skin type. So happy we did for her skin is all cleared up and looks amazing! Thank you Jan Marini for providing an excellent acne line that finally works for my daughter! LovelySkin Customer
Verified Purchase
good
so far it's working well. hasta el momento esta funcionando muy bien sin ninguna alergia o irritacion. Buen producto LovelySkin Customer
Verified Purchase
not gritty
I purchased this kit from Skin Chic. I ran out of bp cream. Purchased some from walmart to get me through till i cld order off ls.com. Bp products are very gritty and irritate my skin. I purchased this kit in a pinch. The cream is barely gritty at all. The spf is wonderful! Has a fragrant oder with a yellow tint. Can you believe spf 30 and no white residue? None. Absorbs beautifully into my skin! I love this spf so much that i have ordered it off of ls.com. It is my staple spf! Perfect Teen Kit
I used these products each seperately as a Teen but now I noticed they are available in a Kit. This Kit is the BEST skin care kit for teenage acne prone skin. I loved this product. Teen Clean
This product has been great for my daughter. LovelySkin Customer
Verified Purchase