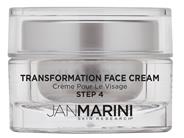 Reviews For
Jan Marini Transformation Face Cream
$110.00
132 Results
Perfect for dark spots
I have some hyperpigmentation and dark spots. That cream helps me with my problems. Definitely recommend it. SkincareVera
Verified Purchase
Truly transformative face cream!
I love the Jan Marini Transformation Face Cream! I use it as part of my face care system. It leaves my face feeling so soft and never greasy. And it does an amazing job with wrinkles! My face has never been smoother or healthier looking! I switched from Obagi to Jan Marini and I'm loving all the JM products I'm using. jonannie0627
Verified Purchase
Thick!
This cream is thick. When I wake up my skin feels so fresh in the mornings. LovelySkin Customer
Verified Purchase
Face cream
I use this morning and night. Better than most face creams and smells so good! Effective face cream
I have only been using this product for two weeks, but I like the way my face feels, and I especially like that you only apply a small amount each time. LovelySkin Customer
Verified Purchase
Love it!
My face feels nice and soft and the product smells great! LovelySkin Customer
Verified Purchase
Lightweight cream with outstanding results!
I am in love with this cream! It is lightweight and non-greasy, yet it has an intense moisturizing ability! The scent is very mild. When I put this cream on, it absorbs immediately and doesn't feel sticky at all. The best part, is that it works! My dry patches are gone and I only use the cream 2 times a week now. LovelySkin Customer
Verified Purchase
The best face cream, hands down
I love all Jan Marini products but I could never live without this face cream. I can almost hear my face thanking me for this daily application. It's not greasy or smelly, just plain beautiful nourishment. Ndiebel
Verified Purchase
Great face cream
I love to use this in the morning for a nice hydrated face SUPER HYDRATING
This is a GREAT Moisturizer. I am 68 yrs old, and have extremely sensitive skin. Everything makes me break out. Started using this moisturizer about 6 yrs ago, and was WON OVER. First time I had soft skin, moisture lasting all day long, even in the summer, and NO MORE BREAKOUTS. Won't be without it. I will always have this is my regimen. Reggiesmom
Verified Purchase
Best moisturizer, ever!!!
This is, so far, is one of the best products I've found. I am always afraid to try something new because my skin is sensitive, but I am so glad I finally ordered this after hesitating for such a long time. I use it in the morning and my skin stays hydrated all day long, and lines are less noticeable. LovelySkin Customer
Verified Purchase
Light, moisturing cream
I found this cream to be light and moisturizing. I like the gentle texture of the cream. In comparison with other creams in this price range, I would give it a 3 out of 5 stars. LovelySkin Customer
Verified Purchase
Jan Marini Transformation Face Cream
I love this face cream. I'm 71 years old and I can see a difference in my skin when I use this product. I also use the C-esta Serum from Jan Marini and her eye cream. Love her products! GailDiane
Verified Purchase
Stop the clock on aging!
All Jan Marini products are tops in my experience - I was introduced to this line by a plastic surgeon who recommended them to her patients undergoing surgery. This is gold in a jar!! A small amount applied twice daily makes my 68 year skin feel soft and supple. It has minimized fine lines and made my skin feel at least 20+ years younger! It is pricey but well worth it - along with using sun screen religiously - this is another great product from Jan Marini and LovelySkin has great sales on her products! Really Lovely!
I'm on my second jar of the Transformation Face Cream. It is very hydrating, softening and has begun to transform my skin in a very positive way. I also use their bioglycolic cleanser and C-esta serum with DMAE complex. A really good line of products. LovelySkin Customer
Verified Purchase
Anti aging cream
Been using this cream for day and night. The soft hydrating cream is light and fluffy. It's non greasy and can be used with serums and/or retinoids. Me and my husband share this cream daily. Jan Marini Transformation Face Cream
I need and enjoy the Transformation Cream at night for my skin to renew! Janybug
Verified Purchase
Transformation face cream
Awesome face cream to use day and night. Moisturizes without causing your face to feel or look oily. Great for mature skin, I recommend this to all skin types. Light and non-greasy
Started using a few months ago after trying this product during a facial. I like a non-greasy cream that doesn't have an overpowering scent. I use this in the morning and at night. Love waking up to soft hydrated skin. A little goes a long way and I have hardly made a dent in this container. I do wish in the interest of the environment they would redesign the wasteful packaging. A problem with so many beauty products. It would also save space and weight while traveling. SWFLuser
Verified Purchase
Thick and creamy, perfect for nighttime
I love how thick and creamy this moisturizer is. So restorative, my skin always looks and feels great in the morning. I prefer it at night, and wouldn't wear it as a day cream. Rxcellent
Love this cream, it is the best of the best! Shelly200
Verified Purchase
Nice but like the lotion better
I use JM Transformation Lotion and thought I'd try the cream. I'd say that the cream is a bit too heavy for me. I'll stick with the lotion. Wonderful moisturizer!
I'm a product junkie. I've used a lot of moisturizers in the past, including major brand names sold at department stores that cost triple of what this moisturizer costs. After using this, I won't be spending my money on other moisturizers. It smells wonderful, and I've received compliments about how my skin glows. Buy it and you will be hooked! LovelySkin Customer
Verified Purchase
Good
This isn't too bad. Seems to work alright the only thing I have to say that's negative is that there is a fragrance and it made me break out. Other than that it was good, but I don't think I'll purchase it again. Best moisturizer ever!
My face stays hydrated all day! I'm 58 and I never drink enough water. This product lasts forever because you don't need to use very much to get the benefits. My favorite moisturizer! LovelySkin Customer
Verified Purchase