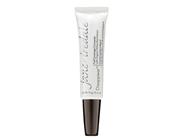 Write a Review - Receive 50 Rewards Points!
Tell us your thoughts about jane iredale Disappear Concealer so we can help you find the right products. With your review, you'll also receive 50 Rewards Points. Please note that it may take up to 72 hours for a review to appear on site. All reviews are subject to moderator approval.
Write a Review
20 Results
O.K, but...
I have a large age spot, and this product hides it more or less. This new version doesn't have the spongy applicator top like the old one I still have.
Great Coverage
I suffer from rosacea and minimizing the redness on my face can be a challenge. The Disappear Concealer helps even out my skin tone before I apply my foundation. It has been a great product for me.
jane iredale Disappear Concealer
Quite a good match for my skin tone. Good ingredients.
A nice change
I am trying this line for the 1st time after years of using mac concealers. I wish the coverage was a bit thicker and longer lasting but my skin seems to love this product line. Great ingredients and with healthier skin, hopefully I'll need less concealer down the road.
Disappear Really works!
I LOVE this product! Probably the one go-to product I buy from this line. Absolutely makes blemishes disappear like magic!
Disappear
Having Rosacea, this product gives me more coverage under Amazing Base. It also covers any blemishes that pop up.
Hides everything
This concealer really hides everything and I do recommend it. The hard part is getting it to blend well. I have better luck using a blending brush over a beauty blender. Also, finding the right color is tricky. I would say I am fair skinned with a yellow undertone and I combine the light and medium/light to get a good match.
My New Favorite Concealer
This concealer is absolutely wonderful for hiding almost all imperfections. It is not thick and goopy, yet it provides excellent coverage. Plus, it does not irritate my skin which is another major plus. It also works well with my foundation - one of the best concealers I have found available.
concealer
Great concealer
Great for acne prone skin
This is hands down the best concealer I have found for my acne prone skin. It covers well without making my skin break out. The consistency is perfect. I have found that if I apply the concealer with a brush, then wait a few seconds after I apply before blending it, it stays put much longer. I wear this every day and have never had a problem with it. I have blonde hair, brown eyes, and light to medium skin tone with both blue and red undertones, which is very difficult to match. The light is perfect for the winter and for those areas that are not exposed to sun as much. I use medium light the rest of the year.
Good Product
This concealer is perfect to conceal acne. The color light medium is just right for my skin tone.
Love it!
This is the first time Ive used Jane Iredale concealer and its a winner for me. It goes great with the pressed powder, with or wthout the liquid minerals (depending on what kind of day youre having). This concealer does not cake onto blemishes, but blends in beautifully. I also use an ever so tiny amount on the worst sort of blemishes and Im surprised such a small amount does the job.
Disappear
I tried the Medium and it was too yellow. The Medium Light was too pink. And the light was too light. I wear warm silk in the pressed foundation so it was unfortunate that I could not match. It does look a little cakey on blemishes even when blended. Looked too unnatural on me.
Great Coverage!
The color blends evenly with my skin and effectively hides red tones. I like the sponge tip applicator.
Great For Large Pores and Acne
My skin changed from dry to oily and with that change came large pores and acne. I tried every powder, concealer and lotion and nothing worked. I tried this and LOVED it. I live in a place that is humid and gets to 118 in the summer. This concealer never once flaked, slid off or seperated. My pores and acne were not even noticeable! I have used this for about 3 years now and would absolutely recomend it. My regime is....I use a light lotion first, then i would use this in areas you need and then i would finish with Jane Iredale pressed powder and you will look great!
Jane Iredale Disappear Concealer
The product works really well & does a great job of concealing blemishes.
Medium is yellow
I have medium toned skin (I use california girl by colorscience) so I ordered the disappear concealer in medium thinking that it would blend with my skin. Wrong! Medium is basically yellow. I'm going with medium light next time... it is a more natural color.
Great Coverage and Color Matching
I use several of the Jane Iredale products- liquid minerals, loose and pressed powders, blush, eyeshadow..... I recently experienced some excessive dryness around my chin which caused some reddness. I noticed for the first time ever that the disappear concealer caused some minor irratation (my guess is the tea tree oil?), but I do have sensitive skin. After I cleared up the dry skin- I no longer experienced the irratation. This covers well both blemishes and hyperpigmentation (which I tend to have both at times). Great product!
Im sure its a great product just not meant for my skin
Im sure its great...I bought it because of all the great reviews. My skin however is extremely dry. EXTREMELY dry! So this concealer just makes the problem worse. Doesnt blend well...not good for my face! but it does work on the areas that arent dry.
Liked the Disappear product by Jane Iredale
The product is good and covers minor blemishes. However it does not cover large beleishes or tattoos as it claims. That said the finish of it is flawless and it matches well with my fair skin tone. I would buy it again.