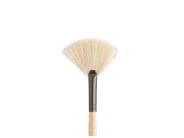 Reviews For
jane iredale White Fan Brush
LOVE this brush
It's the perfect brush for applying blush! LovelySkin Customer
Verified Purchase
Jane Iredale White Fan Brush
Love this brush. I use it to apply the bronzer on my cheekbone. It picks up just enough product to give my that glowy look. A must have brush for bronzer and/or blush LovelySkin Customer
Verified Purchase
Love this brush!
I have always had a hard time applying blush. My blush looks natural after using this brush and it takes any guess work out of the application. LovelySkin Customer
Verified Purchase
Excellent Blush Brush
This brush helps glide your blush when applying, giving you just a hint of color instead of clown cheeks. The bristles are very soft and the brush is long-lasting. As long as you keep your brush clean, my brush has lasted a long time. Definitely one of the best brands of make-up brushes I have found. Kimberly
Verified Purchase
Awesome Brush!
My favourite make-up purchase/investment yet. If you are an amateur make-up applier like me, this brush is the way to go. I could never get my blush right, too brown, too much, uneven, etc. This brush literally does it all for you. It delicately picks up the right amount and mix of colour and hits the cheekbones in just the right way to give a great finish. LovelySkin Customer
Verified Purchase
The Best Blush Brush!
It deposits just the right amount of color - especially when using the Rose Dawn Blush. The brush creates a soft, highlighted look without appearing too powdery. Its a must have - dont know why I resisted purchasing it until now. LovelySkin Customer
Verified Purchase
Great for bronzer!
Really liked this brush. It is perfect for using bronzer, so you dont use too much! LovelySkin Customer
Verified Purchase
A great little blush brush!!
I love this brush! It is so light and the fan shape is perfect for applying your blush. It can also be used to put the final light powder dusting on your makeup. A true must-have blush brush! LovelySkin Customer
Verified Purchase
Not your normal blush brush
When I first decided to try this I was a bit skeptical. It takes a couple of days to get used to, but then you will LOVE it! Most of us are used to a heavier blush brush that deposits more product on our skin--- more than we actually need most of the time and we end up having to buff it out with a blender brush-- and the fan brush is the exact opposite. It deposits small amounts of blush at a time. It may take a little longer to build the coverage, but it is so much more natural looking in the end! The results are a beautiful blush that is well blended into your natural skin tone. Another added benefit, look at the amount of product you will be saving and not wasting each day! Your blush compact will actually last longer. :) LovelySkin Customer
Verified Purchase
Feathery brush
I recently purchased this brush as a stocking stuffer for my girls and myself. I love the way it applies blush lightly and with control. My girls say they like it as well. Brendagrass
Verified Purchase
Results are very natural looking
I'd choose a different brush to apply anything heavy, but for blush and bronzers and applying shimmer to certain areas, this brush is fantastic and it's easy to produce natural looking results. I use it primarily for blush and I've been very happy with it. I clean it regularly and just lay it flat on a clean towel to dry. I keep the plastic sleeve it comes with to retain the shape of the brush and it lasts a long time. LovelySkin Customer
Verified Purchase
Flawless!
This is the best blush brush I have ever used. It helps the blush appear natural and helps create a soft glow that appears to be from within a perfected you.. With this brush, you can not tell where your blush begins and ends! LovelySkin Customer
Verified Purchase
Love it
I love this blush brush. It is perfect for applying just the right amount in the right areas! LovelySkin Customer
Verified Purchase
Great brush for at home masks
I give myself a pumpkin enzyme mask at home after I get a professional microderm and I use this brush to apply the mask. It works great because then I use very little of the mask product and since the mask has active ingredients in it I use this brush so my hands dont get dried out from the product. Blush Brush
this is a must have for your blush,you cannot overdo your blush with the fan brush,it picks up the right amount & applies it lightly