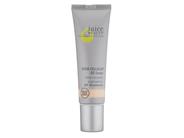 Write a Review - Receive 50 Rewards Points!
Tell us your thoughts about Juice Beauty Stem Cellular CC Cream SPF 30 so we can help you find the right products. With your review, you'll also receive 50 Rewards Points. Please note that it may take up to 72 hours for a review to appear on site. All reviews are subject to moderator approval.
Write a Review
17 Results
I love this stuff!
I have older, fair skin. Every discoloration is visible, and my skin looks dry as well. So, this product is perfect for me. I don't like matte, thick foundation because it makes me look even older. This product covers just enough and makes my skin look moist. I love how it smells, too! I also like the fact that it has some sunscreen in it. Great product. I have been using it for a few years now and just love it.
Good moisturizer and protection
I've been using this product for one year. Provides good coverage and moisture without being too greasy. And doesn't make me break out.
Juice Beauty Stem Cellular CC Cream SPF 30
I love Juice Beauty's SPFs, although this one is slightly irritating to my face, whereas the SPF 30 Tinted Mineral Moisturizer is not.
Great product
I've used this for nearly a month now and so far am pretty happy with the results. I use this in place of my moisturizer in the morning and agree that the coverage is very light, so I still need to use the Juice Beauty concealer and powder but after that I feel like it all stays on my face for a long time during the day without any shine or additional oiliness. In general this line of make up has been great for my skin and for the shine and oiliness and my aesthetician even made a comment about this!
Favorite CC Cream
I first got this CC cream 2 years ago and have tried other CC cream that cost less money between then and now... don't bother with the less expensive creams! I decided to go back to this cream and won't ever try another kind. Feels impactful on the skin and blends well.
I love this!!
This product is a good concealer without being cakey. I have 65 yr old skin and i put it under my moisturizer. I then put on cream foundation. Smells, looks and feels amazing!!
Too pale but still works!
I have very pale skin and usually get the palest shade of makeup in most brands, but this is a bit too pale for me. Even so, if I blend well it's still natural looking on my skin. It's matte with minimal coverage, which is all I require.
Good stuff
This CC cream feels very nourishing on the skin. Unlike other CC creams I have used however it doesn't have a lot of coverage. It is very sheer but I do like the natural look it gives. It does have a pretty serum like finish so a setting powder might be good for those who like a more matte finish. I've been using this in conjunction with their skin care line and I do see a diminishing of my acne hyper pigmentation.
Quality product, not great sun protection.
I have used this product for three years and will continue to use it. I love that this product is a makeup that is also good for my skin with quality ingredients. The coverage is good and it evens out skin tones well. I reduced the product by one star for two reasons, the first is because during the summer months or higher humidity times I do notice more shine on my skin. Yes, I realize this is just the way humidity impacts skin, but thought it was worth mentioning. The second factor has to do with the SPF, I do not believe is very effective. It works for everyday use (walking in and out of the office, taking a brief walk, short park visit, lunch outside, and other brief sun exposure situations) if you spend any time in the sun you will likely need additional protection.
Love this! - Warm Glow
I love that this product is all natural so I feel good about putting it on my skin everyday. It smells like fruit loops. It goes on smoothly and isnt heavy so I feel like I have almost no makeup on which is great. My skin feels so soft even after using it only a few times. I have light olive skin (especially since its getting into the winter season) I got warm glow and it matches pretty perfectly. Ive heard the shades run a little lighter than you think so if you cant decide between 2 get the darker shade. I also tried some on my hand in Ulta to see if it matched but ended up buying it on LovelySkin because its cheaper! I also have the tinted moisturizer and finishing powder which I love. If you are looking for more coverage I suggest using the concealer or foundation as this is a lighter coverage.
Everyday staple
I have this in the Natural Glow shade and it works well for my light complexion. I like the high physical SPF. I dont mind the natural herbal scent (it fades anyway). I use a foundation brush to apply and even though its sheer it does even out and brighten my skin. I do use a separate concealer on blemishes or dark spots.
Light Consistency & Coverage
Ive been using this product for just a few weeks. Right out of the tube, the consistency is superb. At my age, getting foundation on evenly is a challenge. JBs CC cream goes on with a very light touch. The coverage is slight but, again, at my age, thats really the only way to go. Using it with setting powders from other brands is probably not the right idea, but thats what Im doing so as not to waste $$$. There is something of a gleam cast on the skin using this regimen that I suspect would be mitigated by using JBs finishing products. I wont find out for probably another tube down the road since I have tons of finishing powders from other brands yet to finish. Still, the application is so easy, Ill stick with JBs CC.
Juice Beauty Stem Cellular CC Cream
This is a great product! For one, I love its moisturizing and sunscreen ability. I have very fair skin and live an active outdoor life at high altitude, so I need to wear a sunscreen all the time. With the stem cellular repair cream, I not only get a healthy sunscreen which seems to last all day, but I also get a cream that has helped to repair the sun damage on my skin. I also had a scar on my face where a skin cancer was removed, and the cream totally cleared up my scar. I am sold on this product and have told others about it!
GREAT
Love it, good coverage, not heavy and I do not need to put on moisturizer so my face is less oily especially in summer
Juice Beauty Stem CC Cream in Medium
I am so glad I gave this a try. I dont like heavy cream foundations. I have light acne scarring on my cheekbones, so I need something. I have tried Glominerals powder, bareminerals powder and even the new bareminerals foundation. All of these work for me in the morning, but by noon my acne scarring starts to show. Well with Juice Beauty Stem CC Cream, it is very light, not heavy at all, and keeps my scarring hidden through most of the day. As long as I dont touch my face too much, this is the BEST. A++++++++++
I like it!
I first looked at this product as it was recommended to me but I ended up purchasing more because I liked what I read. I already had the Firming Body Cream and liked that. I bought the fairer skin colour and after the initial squirt, the consistency is great. It kinda feels a little light but it adjusts perfectly. It is definitely not a complete coverage type cream but so far it seems to be working well. I dont like foundations so this is great - my first cc cream! I layer with the serum, moisturizer, SPF (be soon replaced by JB SPF) and then this on top. it does have a little natural fragrance but the smell is not chemical.
Great product
I like light coverage and this is it but covers the discoloration on my face. It is added benefit with the SPF and moisturizer. I have been using this for about 6 months and I have noticed an improvement in my skin.