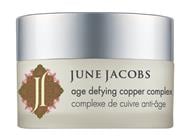 Reviews For
June Jacobs Age Defying Copper Complex
7 Results
Will always be the first product I apply to my face and neck!
I have been using this product for 20 years! Recommended to me at a spa during a facial. I was so grateful to find it on LovelySkin. It quickly absorbs into the skin and is compatible with anything else I choose to apply over it. Beautiful texture and never greasy. I believe it protects my skin from environmental elements. I also believe the copper minerals are compatible with my skin. I truly do not have a wrinkle on my face. LovelySkin Customer
Verified Purchase
Gentle and Effective
This is great for smoothing lines and softening skin. I use in the evening and wake up with a healthy glow. my mom loves this product
This is a great anti aging product. My mom totally loves it LovelySkin Customer
Verified Purchase
Love!Love!Love!
I have been using the copper complex for several years now. It is fresh, light weight, nourishing. I've found it firms and evens out my skin. It is a must have in my skin care regime. Love June Jacobs Copper Complex
I use it under my eyes. Definitely, smooths the skin and minimizes the "tired" eye look. Lovely product. LovelySkin has a great website and customer service. Overall and excellent web experience. LovelySkin Customer
Verified Purchase
Soothing for post-laser treatment
This copper peptide cream is a bit heavy for daytime use or under make-up, but its absolutely perfect following laser or ipl treatment, to cool and calm down the redness. It has a much more pleasant aroma than other copper peptide creams, and also has a very nice texture. I purchased it specifically for use after laser/ipl, and micro-needling. It seems to accelerate the healing process. LovelySkin Customer
Verified Purchase
Age Defying
I aboslutely love this product!! It's the greatest thing I have found that actually works! I have already noticed a huge difference in my skin appearance. I feel and look years younger. LovelySkin Customer
Verified Purchase