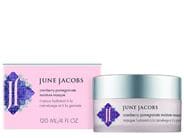 Reviews For
June Jacobs Cranberry Pomegranate Moisture Masque
4 Results
It's OK
I like the smell, and it was very gentle on my sensitive skin. It was not moisturizing enough for my dry skin. Dewy skin
When you rinse this mask off, your skin is glowing and moist. many cosmetics say they leave your skin glowing but they don't. This does! LovelySkin Customer
Verified Purchase
Noticeable improvement first time
Having been in the sun a lot in my youth, with wrinkles to show for it, I now take impeccable care of my skin. No matter how expensive the serum or masque, I rarely see a difference right away. Not so with the cranberry pomegranate masque, which came as a sample with my last LovelySkin order. Not only did it moisturize. It significantly brightened. It was like seeing several layers deep of happy, nourished skin. So I didn't even put foundation or tint on afterward. So glad I tried it. It's now in my cart. Love
I first received this as a sample, and as soon as I tried this masque, I knew I had to buy it. It really makes your skin feel so smooth, plump and firm. It doesn't say on the instructions how often to use it. I plan on using it at least once a week. LovelySkin Customer
Verified Purchase