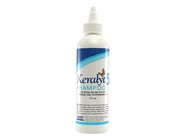 Reviews For
Keralyt 5 Shampoo
A Great Treatment Shampoo
I started using this 3 weeks ago, I only wash my hair every 3 days, this treatment shampoo has helped all the sores I was getting on my scalp matter of fact they are gone. I don't know what they were and either did my doctor because I showed no signs of dry scalp or dandruff but my scalp would itch all the time. So far this Treatment shampoo is helping with the constant itch, but I still have an occasional itch. It just amazes me how I have always taken good care of my scalp and hair switched my shampoos to sulfate free shampoos, which are not cheap, and this started happening to my scalp. But at least this Keralyt 5 shampoo has helped considerably. LovelySkin Customer
Verified Purchase
Highly Recommend
I am amazed at this product's ability to thoroughly clean my scalp & hair without drying it out. I wish I found sooner. I was just browsing the website, saw the great reviews and bought it and shall definitely purchase again. LovelySkin Customer
Verified Purchase
RESULTS
After 6 months of trying antibiotics and other shampoos the DR. suggested, this shampoo with the use of the topical gel to get rid of scalp bumps. It is very strong but it works. I use a conditioner after, as it tends to be drying on my hair. Wish I had found it sooner. LovelySkin Customer
Verified Purchase
Keralyt 5 Shampoo
Keralyt 5 Shampoo is a great shampoo for people with sensitive scalp issues. I have tried so many different shampoos trying to find one that wouldn't irritate my scalp and cause breakouts, irritations and even pustules. My dermatologist recommended Keralyt 5 and I found it online at LovelySkin to be the cheapest way to purchase it. Not only is it the cheapest way, but I found it to be the fastest and they have a whole catalog of wonderful products I was unaware of. I definitely recommend Keralyt 5 shampoo. LovelySkin Customer
Verified Purchase
My dermatologist recommended Keralyt shampoo
During allergy season (year round in Texas) my scalp will break out. My dermatologist recommended that I try Keralyt shampoo. It has really helped and kept the breakouts to a minimum. I had bought a bottle at my doctors office but when it ran out, I didnt feel like driving out of town just for a bottle of shampoo. I ordered from your web site and it was actually cheaper than buying it from my doctor and I got free shipping! LovelySkin Customer
Verified Purchase