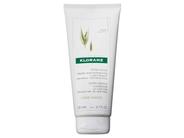 Reviews For
Klorane Conditioner with Oat Milk
$9.00
9 Results
Elegant but can be greasy
At first, I really liked this Klorane conditioner; however, I started to realize that my hair looked pretty greasy. Not ideal for my type of hair. Good conditioner
I used this product with the same brand of shampoo. The best part of this duo is that the conditioner seemed to be in line with our shampoo usage. We finished this conditioner with the shampoo at the same time, which never happens!! I definitely recommend use of the conditioner with the shampoo as provided additional hydration. LovelySkin Customer
Verified Purchase
My opinion on conditioner with oat milk
I have been using this conditioner for years. I like what it does to my hair. The only think I'm have been complaining also for years is the packaging. I have requested to have it in a bottle, the same as the shampoo. My request has fallen in dead ears. Great conditioner
Product works very well on my kids' hair which is thick and coarse and tangled. Has a nice neutral odor and a little goes a long way. I like that is Sulfate, paraben, silicone, sodium and chloride-free. LovelySkin Customer
Verified Purchase
Retired
This conditioner makes my hair soft and manageable. LovelySkin Customer
Verified Purchase
too heavy for fine hair
I have fine hair and found that this product weighed my hair down too much. Maybe, it would work well for really dry hair, but just not the right product for me. LovelySkin Customer
Verified Purchase
Lightweight moisturizer
This has really worked well as a lightweight conditioner for me. Many others leave a film on my hair and weigh it down. This just leaves my hair very soft without frizz. Nice subtle scent as well. Definitely recommend! LovelySkin Customer
Verified Purchase
Good conditioner for regular use
This conditioner is great for regular use. It helps me detangle my long hair and adds no unwanted weight or build-up. It is just what I wanted. LovelySkin Customer
Verified Purchase
Great conditioner
It is hard to find a conditioner with out parabens that works well This one does the job I use it with shampoo and it makes a great combo LovelySkin Customer
Verified Purchase