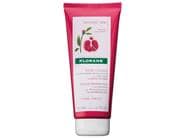 Reviews For
Klorane Conditioner with Pomegranate
$9.00
10 Results
Just okay
It seems to condition well. Just nothing special for me to purchase again. LovelySkin Customer
Verified Purchase
Best Conditioner I've used in Years
Wow! This conditioner is awesome! I was hesitant to buy due to some of the reviews claiming it didn't weight down their fine hair - as I have coarse hair with a couple different curl patterns and thought it would offer me nothing; so glad I bought it because it's the best conditioner I've used is years! A little goes a long way, makes me hair ultra silky, shiny, non-greasy while still giving me bounce and volume. The fragrance is lovely, subtle. Will be buying the large bottle once I run out of the small. Charlottedunn
Verified Purchase
Klorane
First, I love products with pomegranate. Not only does it smell yummy, but it's very moisturizing. I have fine, color treated hair. Since I am officially in menopause my hair and skin have become dry. I've always used volumizing conditioner, but needed something more moisturizing. This is perfect for my hair type, it truly does not weigh it down. Almost50
Verified Purchase
Great Shampoo
I used this shampoo every other day, great shampoo and the the hair feel more lightly LovelySkin Customer
Verified Purchase
Shine for days
I looove this conditioner. It gives so much shine, without too much weight. This is my summertime conditioner, and in the winter (when it's drier), I switch to the Mango Butter formula from Klorane. Both are so lovely. LovelySkin Customer
Verified Purchase
Great for color treated hair
I've had great luck with this conditioner on my colored hair. It keeps the color true while keeping my hair nice and soft. The scent is subtle and fruity, not overwhelming like some brands I've tried. Excellent product. LovelySkin Customer
Verified Purchase
Highly recommend
This product, which I discovered by way of a sample, has restored silky texture to my color-treated hair. Glad I found it! LovelySkin Customer
Verified Purchase
Great Conditioner
Love this conditioner. I have colored, ageing and curly hair. This conditioner makes my hair so soft and tames my curls. Klorane Pomegranate Conditioner
The conditioner went on very nice and wasn't too greasy. It rinsed out great and left my hair really smooth and shiny. The smell wasn't overpowering at all. A very delicate scent. LovelySkin Customer
Verified Purchase
Nice conditioner
This is a good conditioner for color treated hair. I like the smell. It is not quite as hydrating as I would like, though, as my hair is thick and dry. LovelySkin Customer
Verified Purchase