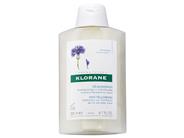 Write a Review - Receive 50 Rewards Points!
Tell us your thoughts about Klorane Shampoo with Centaury so we can help you find the right products. With your review, you'll also receive 50 Rewards Points. Please note that it may take up to 72 hours for a review to appear on site. All reviews are subject to moderator approval.
Write a Review
19 Results
Wonderful product
I love this product. A shampoo for gray hair that doesn't turn your hair purple. It takes the annoying yellow out of my white hair. LovelySkin was so easy to order from, and the price was great. Klorane Shampoo with Centaury
I like washing my hair with this shampoo. It is gentle, has a mild pleasant scent that does not linger after rinsing, and it leaves my hair with a shine. Whatever blue coloring it imparts is very slight, on the other hand, it doesn't leave blue spots in my hair or stain my tub or sink. Best shampoo for gray hair
I have been using Klorane Shampoo with Centaury for about 2 years now. I love how soft and manageable it leaves my hair. My hair is salt & pepper, and the gray looks more silvery now than with those ''purple'' shampoos. And the scent is pleasant, not overpowering. Retired
I have grey hair, and this shampoo brings out the highlights. Wonderful
This keeps my blond highlighted hair crisp and not brassy. It does not irritate my scalp but gets it clean without overdrying. Wonderful for gray hair
I have let my hair go gray. Sometimes it looks dull. I have tried the "purple" shampoos and do not like the resultant purple cast to my hair. I also don't like to clean the shower after using them. When I saw this shampoo I thought I'd try it for brightening my hair. I absolutely love Klorane shampoo with Centaury! It leaves my hair bright and shiny, and no mess to clean in the shower. Klorane with Centaury makes gray hair great!
I love the way Klorane with Centaury leaves my hair silky-soft, shiny and more silvery. It removed the traces of blonde that lingered when I made the transition from dye to gray. Klorane's natural ingredients make my hair feel so healthy and full, I don't miss hair color. It smells wonderful and is more pleasant to use than other purple/blue tinged gray hair shampoos I have tried. For this silver fox, Klorane Centaury is a keeper! Klorane Shampoo for grey hair.
Love this shampoo for my white hair. Not only does it keep the yellow away, it leaves my hair soft and shinning. Also, it smell great. So far so good
I've used it several times and have liked it. I have white hair which recently has gotten some yellow in spots. I'm not sure what is causing it, but I've tried different things including other "blue" shampoos. I like this better because it doesn't make my hair blue. It does seem to help with the yellow. I like the smell. The only drawback is it doesn't seem very hydrating. Klorane Shampoo with Centaury
This shampoo does the trick of brightening up my "platinum" strands without leaving my shower all purple. It smells great too! The only down side is that it tends to be a little drying, but it seems that's the price to be paid for a shampoo that tones down yellows. I will be purchasing again and just deep condition after use! I Like It
This shampoo has turned my dull grey hair into bright grey and/or white highlights. I also like that it does not have that bathtub staining purple color like other grey specific type shampoos. Will buy it again. Klorane Shampoo Love!!!
I love the way Klorane with Centaury make my hair shine. I have gray-white hair and it enhances the color beautifully. Smells awesome. Klorane Shampoo with Centaury
Best Shampoo for silver hair. No artificial coloring to make your scalp itch or dry out your hair. Will try the conditioner next. Shipping is prompt and well packaged. Great for white hair
I have white hair and the Loraine with centaury keeps it nice and bright with no yellowing. Gentle on my hair and smells lovely. Highly recommend! Love it!
I have tried just about every shampoo for white/grey hair on the market, and found that all of them not only smell unpleasant, but stain everything they come in contact with purple. Klorane Centaury smells glorious, it leaves my 90% grey hair soft, silky, and the white bits sparkly. Best of all, its not purple, so no more stained fingers, scalp, bathtub, etc. , and it contains no carcinogens. I love this shampoo and highly recommend it to all you greyheads out there!! Ive used Klorane Centauary twice
Just using Klorane Centaurary only two times on my gray/white hair has brightened it and added a glow that I had hoped for. I had always loved the very white hair color that blessed some women, but Im not quite there yet. Giving up color last year was difficult, but now Klorane will help me through it! The fragrance it a soft fresh, not over-powering, floral. My naturally curly & dry hair did not feel stripped from the shampoo. I did really like it. Keeps my grey hair sparkling
I am growing out my white hair so i am dealing with white and blonde now. I have tried several other products and this is the best. No purple color to worry about and it make my hair great. I just go to Lovely skin website search what I I need and get a great product. Silver now glistens with light
With silver hair, the right shampoo is critical and I found it! Klorane! Originally discovered it in a Vogue Magazine review on the best shampoos for silver hair, and loved the pricing I found at LovelySkin. The scent is delicious but more important to me, my silver hair glistens with light, has shine and doesnt look dry or yellowed anymore. If you have salt & pepper, silver, or white hair, you cant go wrong with Klorane Shampoo with Centaury. I love it, and have given it as a gift to my silver fox friends. Soft Silvery Lustre
This is a gentle shampoo, suitable for daily use, which uses botanicals rather than blue/purple dye to enhance the silvery lustre of grey and white hair. As we age, not only does our hair lose color, but it also becomes dry, dull, and porous. That makes it super susceptible to the yellowing effects of pollution, sun exposure, and minerals in the water as well as being fragile. In general, once a week I use a color correcting shampoo which has a blue/purple dye in it to remove any brassy tones that might be developing and then the rest of the week I use Klorane with Centaury to enhance the shine and keep my hair looking like sterling. And even though I wash my hair daily, Klorane with Centaury leaves my hair manageable, soft, smooth, and shiny without weighing it down. No wonder it has been gaining popularity with those of us who have embraced our grey!