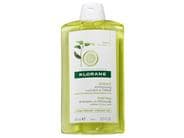 Reviews For
Klorane Shampoo with Citrus Pulp
$9.00
7 Results
Klorane Shampoo
My new favorite brand. I love Klorane hair products. I am purchasing several different shampoo's and conditioners in the smaller size. I love that they offer the smaller sizes to see which one's work best for my hair. Almost50
Verified Purchase
Love this shampoo!
Great for daily use LovelySkin Customer
Verified Purchase
Love! Love! Love!
This shampoo smells great and make my hair feel so clean! LovelySkin Customer
Verified Purchase
Flat Hair
My hair is very fine and oily. I bought this shampoo hoping it would help with my oily hair. I could not tell a difference with the oil, and it made my hair fall super flat. Us fine haired girls know what a challenge it is to have some lift to our hair. I would not recommend this shampoo. LovelySkin Customer
Verified Purchase
Perfect to get clean without stripping hair
Klorane shampoo is the best! I have gone through Kérastase, Aveda, Shu Uemera, Renee Furterer. Klorane is better because it cleanses without stripping or irritating my scalp. I have a lot of fine, long, naturally dry, wavy, highlighted hair. Klorane shampoos have actually changed my hair from frizzy to nice. I alternate between this shampoo, the oat milk shampoo and the one for grey hair to keep my blond highlights fresh and not brassy. These shampoos with my shu umera urban moisture mask make my hair beautiful. Give it a try! LovelySkin Customer
Verified Purchase
Great clarifying shampoo
I really like the Klorane Citrus Pulp shampoo - it is an effective clarifying shampoo that gently cleans and removes build up. When I use it, my hair feels soft and looks shinier. I use this product once a week to remove build up, and I use other Klorane shampoos also during the week. All the Klorane hair products are terrific, and I highly recommend them. LovelySkin Customer
Verified Purchase
Great clariying shampoo
The water at my house is very mineral rich/hard and leaves my hair dull and oily, but this shampoo works great as a clarifying shampoo and makes a world of difference. Also all of Klorane products are great in general. LovelySkin Customer
Verified Purchase