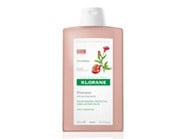 Reviews For
Klorane Shampoo with Pomegranate 13.4 oz
3 Results
3.5 stars: Great, but a little does not go a long way
I have long hair, somewhere between straight and wavy. Its pretty medium in thickness but I have a LOT of it. Because its so long, I only wash it twice a week. I really like this product, Id like to give it 3.5 stars. It is relatively better than many shampoos I have tried and it did do a good job of maintaining the red shade I used to dye my hair (although this could have been due to the fact that I dont wash too frequently). The thing is, I dont think its quite stellar, just pretty to very good. The half star Id like to dock is because I have to rinse and repeat 2-3 times to get my hair washed all the way, so the amount I get isnt as cost efficient as I originally thought. I could see myself coming back to this product but its not so great that Im not going to test out other products first. Klorane Pomegranate Shampoo
The shampoo is a nice and creamy texture. The pomegranate smell isn't overpowering all. It lathered up nice and was easy to rinse out. It left my hair very silky. LovelySkin Customer
Verified Purchase
better than expected!
I was suprised at the results I received from using this shampoo...Though i did not purchase the conditioner the shampoo worked well revitalizing my two month old color and adding shine..The smell is nice npt overpowering or to strong like aveda wich is also plant based. I am going to purchase the conditioner and sm excited anout using the tewo togather. LovelySkin Customer
Verified Purchase