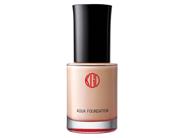 Write a Review - Receive 50 Rewards Points!
Tell us your thoughts about Koh Gen Do Maifanshi Aqua Foundation so we can help you find the right products. With your review, you'll also receive 50 Rewards Points. Please note that it may take up to 72 hours for a review to appear on site. All reviews are subject to moderator approval.
Write a Review
25 Results
My favorite!
I love this product! If you're looking for a light coverage foundation that leaves your skin dewy looking this is it! It goes on and blends very well. It is not a lot of coverage so not the right product if you're looking for full coverage. The only drawback is the darkest shade is a tad light for me so I add a drop of a darker foundation to it.
Second layer skin
My holy grail. It's light, hydrating, doesn't cause acne. It won't cake up and goes on like your second layer of skin. Only thing is that it might be too hydrating for oily skin. It has light to medium coverage.
Holy Grail
This is the only foundation that I have purchased multiple times. I used to buy it online from another store but will buy from LovelySkin from now on due to frequent sales. It lasts most of the day on me when I properly prep my combination skin. I find it best to spread the foundation with my fingers then build coverage where needed with a damp beauty sponge. By doing this I can get a solid medium almost full coverage. This foundation doesn't emphasize my fine lines and pores like other foundations do. I do powder lightly and use a good setting spray (Ben Nye final seal). I use the shade 123 and I have a light to medium warm undertone. I'm considering purchasing shade 143 to mix in for the summer when I'm tanned.
Love !!
I usually refrain from liquid foundation due to a history of acne but I've read many great reviews regarding this product. So I expanded my horizon and purchased this. Was I glad I did ! It has a very great and light coverage! I've always used powdered foundation because I didn't want to look cakey from the liquids but one coat of this was all I need- not cakey and covered all the blemishes. I will def purchase this again in the future and highly recommend it :)
great for dry skin
This is one of my favorite foundation when I want to achieve a light makeup look. It's sheer, but can be build-able. I first spot conceal my hyperpigmentation with Dermablend then I apply this foundation using a makeup sponge and I love the finish look. This works for my dry skin and it does not reveal the dry patches underneath my eyes. I'm Asian with medium skin tone and the 143 works well with my color.
Best foundation of ALL TIME
I don't know what this stuff is made of, but it's pure magic. Perfect coverage, not too sheer but not heavy at all. The only foundation that gives me an exact color match. For reference, I am a light olive skin tone with yellow undertones (Greek/German/Italian background). Wears beautifully throughout the day. Gives the perfect amount of dewiness. I will repurchase forever!
Holy Grail!
This foundation is my favorite by far. I try every single foundation I can get my hands on. It complements my skin so well. I have normal to dry skin and it does not accentuate any dryness or fine lines. ❤❤❤
Moisturizing for dry skin!
I have 40+ dry skin that is prone to redness and irritation. I usually have trouble with foundations making my skin look dry and flaky. Koh Gen Do makes my skin look fabulous and does not dry it out even in the dry winter months. It provides build-able coverage and leaves a dewy finish that lasts all day. If I want a more matte finish, I apply Koh Gen Do loose powder on top. I have used a beauty sponge, brush and my fingertips for application. Oddly, I think it looks best blended with my fingertips. It does take more time to blend that way though. I understand this is an Asian brand but it's too bad they don't offer more color choices.
medium coverage and the illusion of clear skin
My skin is very finicky and sensitive, with bouts of redness, dry patches, and occasionally acne. Prior to Koh Gen Do I tried samples of over a dozen foundations, none of which worked with my difficult skin conditions. The color recommended to me was 013, which turned out to be a perfect match. I'm an NC30 in Mac StudioFix Powder Foundation, and 3.5 in Urban Decay's Naked Foundation line, and a medium in IT Cosmetics CC Cream, to give you an idea of color. Initially I was disappointed in Koh Gen Do, because I applied it with a sponge -- which didn't work. The oils in the foundation separate with additional outside moisture during the application process. I also didn't give the foundation sufficient time to oxidize. This is the rare makeup that actually looks better over time, instead of looking its best immediately. The best application appears to be using your fingers, and gently massaging it into your face. The color pigment is so rich, you can cover your entire face with one pump from the beautiful bottle. After a set with powder, it lasts all day, doesn't streak, and kind of takes over your skin so it looks clear and healthy, and not like you're wearing a mask. I don't even need to touch up with powder throughout the day, and I'm a very active person. The sun protection is also good and non-irritating -- no face itching, and no breakouts. Full removal at the end of the day requires a double cleanse (you will truly see just how much lasts when you do this), but after removal my skin looks brighter. This is officially my holy grail foundation. The rumors are true about this one!
Beautiful Finish
Lightweight formula that looks beautiful on the skin. It never feels like I'm wearing any foundation at all. It provides a light to medium coverage I really don't see it being built up to full though I enjoy mixing it with a full coverage foundation (say MUFE Ultra HD stick or KVD Lock It) if I want that flawless coverage. All in all I will repurchase. My MAIN complaint is the color selection. They don't provide a single shade darker than tan. It's a disgrace.
My holy grail foundation
Beautiful colors, I have shades 213 and 143. 213 for winter months and 143 for summer. Only foundation that matches me perfectly. Perfect amount of coverage, blends beautifully.
Lightweight foundation
I have searched a lot for the sheer lightweight foundation and finally I have settled on this. I use the shade 143 and my mac shade is nc35. This foundation has the same consistency as the Armani luminous silk but it does not become oily at the end of the day. It remains dewy and gives a skin-like finish. Also blends very easily with fingers or brush. I can use this in a hurry without worrying about powder or concealer. I have combination-dry skin. Great choice for everyday foundation.
This is one of the best foundations I have used!
Purchased 213 which is OK for winter. Week later I ordered shade 123 right now I am mixing both and they are perfect! Come summer I may use just 123. I do not need to layer for more coverage. I use a brush and than press into my skin with a damp Beauty Blender. Perfect!
BEST. Natural. WORTH IT
I rarely wear makeup and when I do I buy the dior foundation since it seems like the lightest american foundation. This foundation is literally the best. I put it on and all of my coworkers kept complementing on my skin. They said it looked so glowy and flawless. I told them I was wearing this foundation. They said it looked so natural. For me it's really important that the makeup doesn't cake on and is easy to blend (since I am not at all a pro at applying makeup) this is one of the easiest things to put on. The makeup feels light! When you are applying it you can't even feel it (unlike the dior one). One of the best things about this is that it lasts and stays looking flawless. This is an investment you NEED to make.
Flawless
This is a beautiful foundation that looks so natural, undetectable on the skin, but still delivers a solid medium coverage!
Hard To Beat
Being a mature person who has shopped and used a variety of cosmetics over the years I must say Koh Gen Do finally fills the bill. A little goes a long way yet gives good coverage. I will continue to use.
Love it!
Flawless finish on aging skin. Does not settle into fine lines. Amazing light coverage.
Love it!!
I absolutely LOVE it!! My skin looks and feels so smooth. Stays great all day until I remove it. Definitely will buy it again...I'm 74 and I feel 50!!
I give this a ten stars
Drum rolls...I just realized that I had been living in a cage! I heard so much about this on YouTube and I ignored it. And I don't know why I am scrunching my teeth so hard while writing this review. Well, it must be I really want everyone to know so hard how AMAZING this foundation is. It hides my pores, blurs out fine lines, and gives me an expensive facial glow. Oh and I also want to mention to some people who hesitate to purchase this from LovelySkin, girls, you need to read from LovelySkin. I am telling you that EVERY question that I asked LovelySkin, there's not a single one that has not been answered from them. The responses were fast and legit. Very legit. From products authenticity to any questions, LovelySkin will promptly reply to you with very detailed answers. That's what I love about LovelySkin. Plus, you always get discounts from them, saving TONS of money. So girl...you are on the right track if you are looking for some great deals and authentic products.
LOVE IT
Literally the best foundation. Ever. I love it so much! It makes your skin look so radiant, especially under sunlight. It makes me look like a goddess, and it's worth the money. Especially since the retail price is $62, and I got it off of LovelySkin for $48! BLESS! xo
Favorite
I've been interested in this brand for a long time and now realize should have ordered sooner. Used MAC and cargo foundation each for about a year or so. After a while either passion and/or maybe my skin grows tired. Anyway have combination skin the humidity worry about breaking out plus constantly blotting the oil slick after 1-2 hours of putting on makeup is cumbersome. Doesn't make me break out, thank goodness rather not as I get closer to the 40 year mark. It's sheer to medium coverage, seems more watery than the others mentioned but holds its own. Absolutely buy this again!
Love!
I love this foundation! It's light and bright and provides good coverage with almost a dewy finish. I first ordered the lightest shade (I'm fair) but it was too light so the wonderful customer service provided me with an exchange for the second lightest shade 002. I have normal skin with some dryness and occasional breakouts and this worked perfectly for me :)
Excellent customer service and foundation not too bad either
Love the foundation undertones of 213 - a nice for light olive complexions with a hint of green and enough yellow which is hard to come by. Nice coverage, light but enough to show your good skin but cover what needs to be covered. It was unfortunately too light for my NC 30 complexion so I had to return and reorder the darker shade, 123. The customer service rep was so pleasant and helpful. I received my reorder promptly. I think it's still too light but LovelySkin has been so nice I feel guilty returning another bottle for the darker shade. Also note, 123 isn't as olive as 213. I feel like it may lean more towards a neutral. Not necessarily pink tones but not the true olive undertones of 213. I still highly recommend. I just need to get the color right!
Perfect Natural Foundation for Summer or Oily/Combo Skin
I highly agree with the previous reviewer who said that after using Koh Gen Do her search for perfect foundation is over. I generally use this product in the summer and the Moisture line in the winter because I have dry skin. Those with oilier or younger combo skin will likely love this product year round. 213 is wonderful for cancelling out occasional redness but oxidizes a bit too dark for my very pale complexion. 113 is too peachy for me and has a different undertone than 213. (I wish they offered the 112 in this line which is more neutral than 113). I also wish they offered a lighter duplicate undertone version of 213. For now since my skin is very pale and leans more neutral I have to use 012 in conjunction with the 213 to achieve a better match for my summer skin. Even if they never alter the colors I will continue to use this because its a very close second to me after the Moisture line. Your skin but better. A medium but natural youthful looking coverage. 213 is probably a shade that anyone with a light to almost medium true yellow/ olive undertones would find utter perfection. If you are very pale/fair like me it will be a little too dark but still a beautiful complimentary shade. If you are true medium skin tone it may be too light. You will still need a concealer if you use one now and regular exfoliation to avoid patchiness or dry patches if you are prone to that. I also use a pore minimizing primer under this and when all is said and done it makes my mature skin look amazing.
Search-ending
I have zero interest in any other foundations. This one is natural-looking, provides sheer, buildable coverage, not to mention the company itself is phenomenal. Just go to their website and read about them, seriously. That aside, this is a great foundation for when you want your skin to look like skin, dewy, but not overly so (I have oily skin, its fine), easy to apply and look great even when youre in a rush. Since its reformulation, however, I do suggest going with 213 as the lightest warm-toned color, if thats what youre looking for. Its warm lighter counterpart turned out to be too cool on me, oddly.