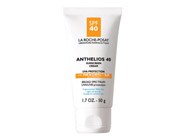 Reviews For
La Roche-Posay Anthelios 40 Sunscreen Cream
12 Results
Extra sun protection
My dermatologist recommended that I use two sunscreens--one with physical blockers and one with chemical blockers--for periods of time when I have extended exposure to the sun. Amongst her recommendations for sunscreens with chemical blockers, this one got the best rating from EWG. Its white but rubs in very well. I can wear it under my make-up without caking or streakiness. Be sure to use a good foaming cleanser to wash it off! LovelySkin Customer
Verified Purchase
Thin Fluid
It's a very thin, running fluid that offers a wide veil. But the residue left white flutters all over my face. CH in SC
I have had skin cancer and have allergies that prevent me from using many products on my skin. I have had no problems with this product. My doctor recommended Anthelios 40 sunscreen cream and I wear it daily. LovelySkin Customer
Verified Purchase
Wonderful protection...
This is another favorite product of mine. My sister, who is also very fair-skinned, introduced me to Anthelios (at the time, we were buying from Canada). No offending scent, not too greasy. Great sun protection! Some may consider this a bit pricey, but I personally believe the protection is worth the price. LovelySkin Customer
Verified Purchase
Heavy
I find this sunscreen hard to spread and must wear a moisturizer to even it out. It is the perfect strength when I know I will be out in the sun for long periods of time. I am not sure I would continue to use on a daily basis if I had not already purchased the tube. LovelySkin Customer
Verified Purchase
Serious Sunscreen
This product is for people who need serious sun protection. It is thick and heavy and has a high titanium dioxide component which leaves a white cast to the skin. As a runner, this is an ideal product for me, but for daily use and under makeup, I prefer Anthelios 15 Sunscreen Cream or Anthelios SX Moisturizing Cream with Sunscreen, both providing comparable protection, with the exception of the physical block provided by the titanium dioxide. LovelySkin Customer
Verified Purchase
sunscreen product
All I can say is this a a great sun screen. Does an excellent job and is not greasy. Thank you LovelySkin Customer
Verified Purchase
A sunscreen that lasts
Finally La Roche Posay's Anthelios 40 sunscreen is availbale in this country. It's creamy and really lasts. LovelySkin Customer
Verified Purchase
Review of 40 sunscreen cream
I like the product and think it works well. The only issue I have found is it difficult to rub in. I leave the house often with white streaks on my face as if the sunscreen was not absorbed. If I am careful it is fine so not a huge issue for me. LovelySkin Customer
Verified Purchase
LA ROCHE-POSAY ANTHELIOS 40 SUNSCREEN CREAM
I think this product works well as a sunscreen, but I do not like the texture of the lotion. LovelySkin Customer
Verified Purchase
Prefer the 15
I bought this product because I've been using the 15 sunscreen and love it. I found it to be very very thick. It's tough to rub in and not nearly as moisturizing as the 15. I only use it if I'm going to be in the sun for a long time. Otherwise I stick with their 15. LovelySkin Customer
Verified Purchase
Nice Sunscreen
I loved the Anthelios combination lotion and skin cream, so I ordered this when it became available. Good coverage, non-greasy feel. Nice as a sunscreen alone. But, it wasn't something I could wear under my makeup. I felt like it made my face look very pale. LovelySkin Customer
Verified Purchase