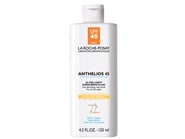 Reviews For
La Roche-Posay Anthelios 45 Body Ultra Light Sunscreen Fluid
9 Results
Great for everyday, but not the best for outdoor sports
This liquid formula is easier for me to use than the Anthelios spray (lightweight feel, but the spray button was hard to press). This formula feels lighter than the Anthelios 60 Melt In lotion, but a little heavier than the spray. It's slightly more difficult to spread than the thicker lotion or the slick spray, but it also absorbs into the skin with less residue than the lotion or the spray. I think this works best for me for everyday body/neck use because of the light feel and absorption. I don't feel or smell like I'm wearing sunscreen on my way to work. However, it does not hold up well to sweating. I applied it before going running on a hot and humid day. It was fine for the first 10 minutes, but I noticed that the product started showing up in white pools on the inner side of my arms where the elbows bend. It probably was showing up white on my neck, too. Maybe I applied too much, but I really don't think so. I never had this issue with the 60 Melt In lotion or spray. LovelySkin Customer
Verified Purchase
Did the job
This sunscreen goes on smoothly without any greasy or oily residue. I feel that it moisturizers while protecting my skin from the damaging sun's rays. I will purchase this product again. LovelySkin Customer
Verified Purchase
It's fantastic!
I use sun block every day--rain or shine. So when I ran out of sunscreen in Italy, I tried this one. I ended up buying 5 to bring home with me because I did not burn at all with all of the outdoor tourist things I was doing in the hot Italian summer sun. Then I found that LovelySkin sells this. The product is the best! People tell me that my skin looks luminous when I wear it. (I do use this on my face as well.) So bottom line, great sunblock. moisturizing, and makes your skin look fabulous. LovelySkin Customer
Verified Purchase
Good Sunscreen!
This product melts into your skin and doesn't leave any white residue. It feels weightless. goes on easily
Easy to apply. Non greasy and non staining. Does protect skin from burning. LovelySkin Customer
Verified Purchase
La Roche-PosaySunscreen
Wow...great product. Protects you from the u v rays and is very light on the body and does not leave a white film. Loving this sunscreen...thank you! LovelySkin Customer
Verified Purchase
Wonderful!
I love this product! I put it on first thing in the morning and then was out in the sun for hours and did not burn at all. i highly recommend La Roche-Posay Anthelios 45. LovelySkin Customer
Verified Purchase
the best product I have used.
I am 72 years old and Anthelios 45 the smoothest sunscrean. its the best and why did it take me this long to find it..... LovelySkin Customer
Verified Purchase
Great Sunscreen
Absorbs quickly and goes on light, without a heavy feeling. LovelySkin Customer
Verified Purchase