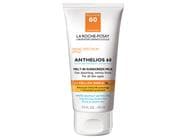 Reviews For
La Roche-Posay Anthelios 60 Melt-In Sunscreen Milk
$21.99
Good for sensitive skin
I use this primarily on my arms when we go camping. It has protected my pale freckled arms from any sunburn. My skin is about as sensitive as they come. I have Rosacea on face and get eczema on my arms. I keep one in the house and another in our RV so as not to forget it. Frdsgrl
Verified Purchase
Pleasant experience
The product applies well and does leave a greasy residue on your skin. Very happy with product and will purchase again. A FAVORITE
This sunscreen is light, melts right in, no white cast and I use it not only on my face but also on hands, neck arms anywhere I want protection. The tube lasts quite a long time and I like having one sunscreen for everything. The price is great and if you have a coupon, even better. Highly recommend this product. Overall nice sunscreen
This a nice sunscreen to have on hand for body. Good protection, and no residue. However, My skin is very sensitive so I avoided using it on my decolletage. Hillary412
Verified Purchase
Use it on face and body
It is nice and smooth upon application and doesn't leave a white coating. Have to reapply after being at the beach for a while or sweating outside. LovelySkin Customer
Verified Purchase
Melts into your skin
I loved the title "melt in". It definitely does what it says. I got this as one of my free samples and I was so impressed with it, I went ahead and bought it. The best thing, my face loves it! No breakouts! LovelySkin Customer
Verified Purchase
Love this product
Love how easy it is to apply, giving the smooth velvety feeling. It moisturizes your skin well and if you apply too much can kind of give the greasy look. It does leave a white cast to the skin. LaSteph
Verified Purchase
Liked it
Doesn't feel heavy. It's light weight. Good coverage. No smell. LovelySkin Customer
Verified Purchase
Great sunscreen
I'm on my second bottle of this sunscreen. It goes on smoothly and leaves no white residue. It is my staple sunscreen that I will order again and again. LovelySkin Customer
Verified Purchase
Very Nice!
This sunscreen is easily absorbed with no white overcast after applying. It also moisturizes, without being greasy. The SPF 60 protection is great, I will definitely continue to use. LovelySkin Customer
Verified Purchase
It does what it says.
This sunscreen feels like a moisturizer and protects wonderfully when I spend all day swimming at the lake. It doesn't sting or make me breakout and gentle on my sensitive skin. I have tried many La Roche-Posay products and love how reliable they all are, this is another one that does what it says it will do! I highly recommend La Roche-Posay Anthelios 60 Melt-In Sunscreen Milk! Christen
Verified Purchase
Great protection
This is a great sunscreen! Doesn't sting or burn face or eyes and actually does melt into your skin! I use this or cooling waters every day LovelySkin Customer
Verified Purchase
Dependable and comfortable sunscreen
I've bounced around between a few all over body sunscreens and the La Roche-Posay Anthelios 60 Melt-In Sunscreen Milk has come out on top. It's light and easy to apply and gives me great protection. The best part is that it doesn't leave a heavy residue on my skin and washes off easily in the shower. Others have been hard to clean away. This is my "go-to" from now on. LovelySkin Customer
Verified Purchase
Favorite Sunscreen
I love this.... have been using it for years and I love the price through Lovely Skin The Best!
I have been using La Roche-Posay products for years, especially since I work outside as a landscaper. This cream does not leave a sticky or oily residue and I know it is protecting my skin in the best way possible, especially based on all the recommendations coming from dermatologists! LovelySkin Customer
Verified Purchase
love this stuff
It feels good going on and it lasts for surfing. Hhetzeck
Verified Purchase
La Roche-Posay Anthelios 60
I use this sunscreen on my face every day. It's easy to put on and is not greasy. It's my go-to sunscreen! LovelySkin Customer
Verified Purchase
Wonderful product
I live in Las Vegas where it is hot and sunny for many days now. And our pool is right in the sunshine most of the day. So, I usually wait to go in later. However, I received a sample of this sunscreen and it worked beautifully. So, I ordered a larger one for myself. It goes on smoothly and works very well. Highly recommend. Best for beach living
With a home just steps from the sand and ocean, out family spends a lot of time at the beach - year-round! Whether its a summer day with friends, or a fall walk in the cooler weather, LaRoche-Posay is our go-to brand of sunscreen. We use several of the products including the the melt-in sunscreen milk. It's easy to apply and has a light scent. Most importantly, it protects us from the sun's damage. Highly recommend the product. LovelySkin Customer
Verified Purchase
Great sunscreen!
Provides an excellent protection and melts into the skin. It's also a good moisturizer. LovelySkin Customer
Verified Purchase
Great sunscreen for acne prone sensitive skin
Love most la roche posay products, but their sunscreens take the cake. Most of them don't break me out and this one particularly doesn't. It has no white cast and sinks in without a greasy on top of your skin feeling! Its awesome! Steph23
Verified Purchase
Great sunscreen
I like to use Lrp sunscreens white cast is too much for me
I really had high hopes for this product, but when I started to use it. It had a white cast and was very oily for me though I am a dry skin person. definitely not going to purchase it again Great Sunscreen
I bought this sunscreen because of the reviews and it's some what water resistant. I live in Texas and when you go outside it's very humid. It gives me the protection that I need and is very silky, not sticky and absorbs easily. Love this sunscreen
Other sunscreens I've tried are those barrier creams that leave a white residue on my face no matter how much I try to rub it in. This one has a nice texture (not too shiny) and feels great. I've been using it on my daily walks, and not a single freckle has shown up on my face! FashionCat
Verified Purchase