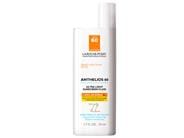 Reviews For
La Roche-Posay Anthelios 60 Ultra Light Sunscreen Fluid
$29.99
175 Results
Truly Light Weight
Very light weight and too easy to apply too much. I do wish it came in a pump but after a few times you remember it comes out very quickly. It's truly lightweight and usually mix it in with my liquid foundation to apply to my face. I tend to have oily skin and this works great for me. Best I've tried
I had CO2 laser I needed a good sunscreen for daily use. I tried so many different brands, most of them were more expensive. I even purchased a sunscreen kit during Skin Cancer Awareness month, which came with six different brands. Each one made my skin look oily and with a white cast. As a male, I didn't want a tinted sunscreen (though I did try a few). This sunscreen is far and away superior to any I've ever tried. It melts right in and doesn't leave any type of residue. It doesn't dull or shine your complexion. And I didn't break out from it despite having sensitive skin. I don't feel the need to try any others as I literally have zero complaints or areas of improvement from this product. I even like the small packaging and the shaker ball inside. Ultimate Sun Protection
I began using this product while living and working overseas, on a tropical island. Since this sunscreen always kept my skin protected, I am still using it years later. Goes on easily and doesn't interfere with my makeup. ginak79
Verified Purchase
La Roche Posay sunscreen lotion
I love this lotion as it's very light and used daily as moisturizer under foundation. It's not greasy at all, thin and absorbs quickly to skin. Love it. Tracy2020
Verified Purchase
Facial sunscreen
I use this everyday on my face. It is very light and not greasy. I wish it came in a larger size. LaRoche-Posay Anthelios 60 Ultra Sunscreen Fluid
Wonderful lightweight odorless sunscreen that was recommended by a top dermatologist at Mt Sinai Hospital in NYC. I've used it for years and will continue to do so to protect me from sun damage. LovelySkin Customer
Verified Purchase
Sunscreen la roche
I love it! Fantastic!
Not sure why I'm just trying this sunscreen, but I have to say it is fantastic! Goes on so wonderfully and the best is NO WHITE CAST! Which is huge coming from a Pacific Islander! Definitely a new love! LovelySkin Customer
Verified Purchase
The Only Sunscreen
The only sunscreen I use on my face--light but effective. Makes my skin look better as a bonus (great on these no makeup days!) LovelySkin Customer
Verified Purchase
Excellent!
Very lightweight without leaving any white cast on the face. Works well under make up. LovelySkin Customer
Verified Purchase
Love the texture
I have always used La Roche Posay but this ultra light sunscreen I am trying it for the first time. So light in a way that it doesn't bother you. I can wear my makeup on top of it without any problem. Christelle
Verified Purchase
Very Nice!
Very nice protection and works well under makeup. Love this product
I have been using this for years. I tried a lot of face sunscreens and most make my skin oily. I think it was SPF 45 before they changed it to 60. Will continue to use it. Hope they don't change it again. LovelySkin Customer
Verified Purchase
La Roche-Posay Anthelios 60 Ultra Light Sunscreen Fluid
This is a good sunscreen if you're always indoors. But, if you're outdoors a lot and sweat a lot, you have to reapply almost every 2 hours that I end of putting a different sunscreen brand which sticks more for hours then this on top, so it's not sticky and not looking like a ghost. Otherwise, this can't be used on it's own outdoors on warm weather/climate. LovelySkin Customer
Verified Purchase
Easy to apply sunscreen
Shake and apply, it's pretty simple. Goes on very easily and gives great sun protection. AmberJean
Verified Purchase
My Favorite Sunscreen
I have Rosacea and finding a sunscreen that does not sting my face when applied has been a challenge. I love the light texture of Anthelios 60 Ultra Light Sunscreen Fluid. It has a slightly matte finish and dries looking radiant. Best of all, no white residue. I have tried several of La Roche-Posay sunscreens.This one is my favorite. LovelySkin Customer
Verified Purchase
Blocks the sun
The sunscreen worked, as my forehead did not burn like it can when I apply other sunscreens. I also liked that it did not apply leaving white residue on my face. However, I was excited for the matte finish and I did not feel that this did that. Long Time User
I have been using this sunscreen for over 20 years. I first had to order it from Canada. I found the review in a magazine and ordered it over the phone. No Internet was available. This is my go to sunscreen for my face. All of their sunscreen products are excellent and do what they say they do. the greatest sunscreen ever
I absolutely love it. I have used it for several years. I have had several skin cancers when I was younger and the doctor advised me to use a sun screen and suggested for me to use Anthelios 60 either the cream or the ultra light fluid. I have used both but really like the texture of the fluid. I use it everyday and would recommend it to anyone. It's the greatest. It's the BEST!!!!! LovelySkin Customer
Verified Purchase
Best facial Sunscreen
Love this product, goes on light, feels like you have nothing on, yet offers full coverage. It's my every day sunscreen. Perfect for under makeup. And no weird smell! Nice change!
My previous facial sunscreen caused stinging when it was layered over other products. Not the case with Anthelios 60. I was pleasantly surprised that the prior reviews were right it goes on light, does not look white on the face, provides great sun protection and best of all does not sting. It has a very milky consistency so be careful when you tilt the bottle down. I will be ordering this again! AnnieMc
Verified Purchase
Awful
I was really hoping to like this sunscreen, but unfortunately, it would leave my skin an oily mess and broke me out after a few uses. LovelySkin Customer
Verified Purchase
Easy to apply with leaving a white face
I like this product. It comes out more on the liquid side, is easy to apply without leaving a trace of while. LovelySkin Customer
Verified Purchase
Effective sunscreen
I really like this sunscreen. It goes on easily and blends in well. It lasts all day and is very effective. I have tried several other facial sunscreens and keep coming back to this product. LovelySkin Customer
Verified Purchase
Best sunscreen ever!
Holy grail of sunscreens, particularly for the face. Non-greasy, yet effective. I wear it under my foundation. LovelySkin Customer
Verified Purchase