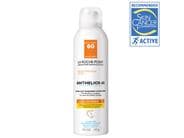 Reviews For
La Roche-Posay Anthelios 60 Ultra Light Sunscreen Lotion Spray
$35.99
14 Results
A GREAT OPTION!
La Roche-Posay was recommended to me by my dermatologist. The Anthelios line of sunscreen products are amazing. This spray is light and provides proper protection. Be sure to reapply :) LovelySkin Customer
Verified Purchase
Great product
I love Roche-Posay products, it's my favorite for sun protection. They are the best. La Roche-Posay Anthelios 60 Ultra Light Sunscreen Lotion Spray is excellent protection for the skin: it's simply the best, healthiest sunscreen/sunblock. It's also lightweight. Mythborne
Verified Purchase
Easy to use
Perfect on the go. Easy to use. Great quality. High protection level. Will buy more for sure. Product is great but impossible to use
I like the feel of the sunscreen itself, and it seems to work well. However, the spray is so difficult to use. I have a hard time getting it to start spraying. It's nearly impossible to find that magic spot to get it going. Then after I have successfully done one half of your body, your hand is now too slippery to have the spray work for the other half. I have given up and don't even use it anymore. LovelySkin Customer
Verified Purchase
Great non-greasy sunblock
I used this on vacation, and I was in the water all day and never got burnt. Great coverage, not greasy. My only recommendation is to spray your whole body first, then rub it in. Once it's on your hands, it's very hard to spray! LovelySkin Customer
Verified Purchase
Will purchase again
I like the LAROCHE-POSAY ANTHELIOS ULTRA LIGHT SUNSCREEN LOTION SPRAY because it does not feel greasy or heavy. It sprays on like a light moisturizer and spreads evenly. It also works, which is very important to me. I recommend this product and will order it again. Love the spray
I had not tried a spray sunscreen before, but really like it. I have always used Anthelios lotions and still will on my face, but for the rest of me the spray is quick and easy. I have tried it on my face, and while it is not my first choice for the face I have used it by spraying it into my hands and applying. It is quick and easy doing it that way, and when in a hurry that is what I do. LovelySkin Customer
Verified Purchase
A FIRST
This is the 1st and only sunscreen that hasn't broke me out. It is extremely hard to press the sprayer and works best to spray into hand then rub in. Reapply OFTEN. LovelySkin Customer
Verified Purchase
La Roche-Posay Anthelios 60 Ultra Light Sunscreen Lotion Spray
I love their sunscreen products, however, the spray is awful. It is very messy and you still have to rub it in......when you spray your lower legs and feet it gets all over the floor......that only happens when you can get the can to spray! When I switch to my left hand I can NOT get it to spray no matter what I do. I was told the product is not defective and I would have to pay the return shipping.........I am not happy with this spray can at all........... LovelySkin Customer
Verified Purchase
Nice for everyday use, but I''d prefer a liquid dispenser versus the spray can
I like the product a lot to use as an everyday body sunscreen. It has high protection. It is not as heavy, sticky, or smelly as most body sunscreens. Unlike many spray-on "dry oil" type of sunscreens that leave an oily shine (that stays shiny, especially in humidity), the initial sheen on this one does dry down well enough that I can use it without much fear of it transferring to clothing or furniture. But I'd like it even more if it had a liquid dispenser format such as the one on my Replenix Ultra Sheer SPF50+ (a controlled eyedropper that doesn't gush out). The spray button on this is so stiff that I have to brace the can on something and press very hard, so I have to dispense it into my hand. I wouldn't spray it on myself anyway, because the spray is so wide. But the thin liquid might as well be in a controlled liquid dispenser in the first place! It would be so much easier to control the application that way. LovelySkin Customer
Verified Purchase
Best Sunscreen for all over the body!
This is a great sunscreen for all over the body, especially if you need to cover a large area (legs, arms, etc). La Roche-Posay Anthelios has a phenomenal reputation and I love this sunscreen, especially if Im going into the water or Im going to be outdoors with my kids for a while. Only 1 caution: it sprays over a wide diameter so its best to spray it on in an area where you arent worried about it going everywhere. Minor detail for such a great product in my opinion. I love it & wont use anything else. LovelySkin Customer
Verified Purchase
Change the spray can
This is a good product in a badly designed spray can. It is very difficult to get it to spray; I needed to use the palm of hand to get enough force to make it work. When I got it to spray it sprayed everywhere but where I wanted it. LovelySkin Customer
Verified Purchase
New Anthelios spray
Love the product, but find the spray is wide. More product could be saved by narrowing the spray. Goes on smoothly and makes my skin soo soft !! Anthelios is my favorite sunscreen. LovelySkin Customer
Verified Purchase
Pros and Cons of Spray
I love Anthelios and have loved it since I purchased in France. And I recommend it to all my friends as the best sun protection. However, I do not like the spray canister. It drips down the sides of the canister and is to runny to put on. Give me the cream and I will do the deed with it!! LovelySkin Customer
Verified Purchase