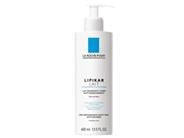 Reviews For
La Roche-Posay Lipikar Body Milk - Lipid Replenishing Body Lotion
12 Results
Good for winter dry skin
Winter always brings rough, dry patches. This has really kept my skin soft during this extreme weather we''re having! Also appreciate that there is no fragrance to speak of, it's just kind of neutral smelling. LovelySkin Customer
Verified Purchase
This may be my winter HG
Have used La Roche-Posay sunscreen for years per my dermatologist's advice. Even though I live in the humid south, I still struggle with incredibly dry, flaky, itchy and uncomfortable skin in the winter. This may finally solve that struggle. It applies beautifully, is absorbed quickly and lasts well between showers. The slight fragrance is not a problem, and I have had no adverse reactions. I was hesitant because it is pricey even with LovelySkin's generous discounts. However, if I add up all the money spent on ineffective creams and lotions, I may actually find I come out ahead. LovelySkin Customer
Verified Purchase
Gorgeous moisturiser
Wonderful moisturiser for the body. No scent, so it doesn't compete with your chosen scents. Leaves skin feeling soft and comfortable LovelySkin Customer
Verified Purchase
La Roche-Posay Lipikar Body Milk
They are well packed and delivered in a very professional way. LovelySkin Customer
Verified Purchase
I dont like lotion with mineral oil but this is the one I will use
I think this is a French version of a department store lotion. Like a really fancy bottle of Jergens or Nivea. The ingredients seem basic but the water is thermal mineral water from deep within the French Alps. The mineral oil is medical grade etc etc. I think it sounds like a lot of phooey but it sold me. It actually really works very well. And it contains something that stops my itching. I don't mind the sterile smell. LovelySkin Customer
Verified Purchase
Great stuff
I love it because it has helped my daughter and my nephew with their eczema condition. They don't get the skin patches as often or as bad as before. LovelySkin Customer
Verified Purchase
Too perfumey smelling!
strong perfume smell IMO and not good for those of us that are prone to headaches from certain smells.. Lotion itself is extremely easy to apply on your body due to its milky like consistency, that is the one thing i liked about it however, after using this and putting up with the perfume smell for almost a week, i found it to not do much in keeping the dry bumpy skin on my arms away for the watery thin lotion only feels like it is hydrating your skin in the first hour, after that you need to use more! Although i love some of the other LR-P products, this one is a waste of $$ to me, especially if you have dry and sensitive skin. And the pump action (on my bottle at least) was quite irratating, it only pumped halfway down and you barely get any lotion out of it.. LovelySkin Customer
Verified Purchase
Very Moisturizing
This is an excellent body moisturizer. I find that with this product, a little bit goes a long way. If you apply too much you will end up feeling sticky for hours. It does, however, have little to no smell so it will not interfere with any perfume you may wear. The only reason I gave it 4 stars was for the packaging. This type of bottle makes it very difficult to get all the product out of the bottle. LovelySkin Customer
Verified Purchase
Best There Is!
I hesitated purchasing due to price, but finally broke down because of positively review. This is the best body moisturizer I have ever used. Scent is clean and light and lotion heals my dry, sensitive skin. Wish price were a little lower though. LovelySkin Customer
Verified Purchase
La-Roche Posay lotion
This lotion is great. The moisture it provides seems to last all day without making me feel greasy. LovelySkin Customer
Verified Purchase
The best lotion for Dry Chapped Skin
I used to purchase this product in France whenever I visited for business. Now that it is available on-line I can save space in my luggage. It is the absolute best lotion for dry, chapped skin. I saw results immediately then more permanent results within a week of use LovelySkin Customer
Verified Purchase
magic
My husband never leaves the house without putting on his magic lotion!! His face never feels dry .He loves it. Thank you Michelle Rose LovelySkin Customer
Verified Purchase