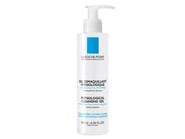 Reviews For
La Roche-Posay Physiological Cleansing Gel
6 Results
Love it!
I love this cleanser. Its very gentle, removes all of my makeup, doesn't sting my eyes, doesn't dry out my skin and smells heavenly. I have been using it for 3 months now, and I only have good things to say. It is on the pricier side for sure, and it's hard to find in retail. But I found it here, on this website, and occasionally it even goes on sale. And of course, you can't beat free shipping. LovelySkin Customer
Verified Purchase
Did nothing.
I really love the La Rochay mineral sunscreens but this cleanser left much to be desired. A cleanser should first and foremost cleanse your skin. This one didnt. I had on the La Rochay tinted sunscreen. Used the cleanser & the surface of my skin felt a bit dry afterwards. When I followed up with the micellar water, the cotton was covered in the sunscreen. I gave it two stars bec at the very least, it didnt irritate my skin & the scent didnt bother me. Unfortunately I had to return it. LovelySkin Customer
Verified Purchase
How much I was glad I found La Roche-Posay Physiological Cleansing Gel
Going thru menopause, I was so unhappy with what was happening with my face. I felt like I was going thru my teenage acne stage again. I had black heads, little pimples, my current face was not working and I had been using it for years, I loved it. I just didnt know what to do. I read an article in AARP, that described what I was experiencing that other women did and they suggested La Roche=Posay Physiological Cleansing Gel, and it has worked. I am thrilled with the end result. The black heads, oily skin, pimples have all disappeared. I love my skin again. LovelySkin Customer
Verified Purchase
Very Gentle,But Effective
I absolutely love this face wash. I am on 2 different types of topical acne products so my face is prone to irritation. Even though I have severly oily skin I do not need a drying face wash. However, I do need a wash that cleanses but does not strip my skin of its oils. This is a must try product for anyone on any sort of harsh topical acne treatments. LovelySkin Customer
Verified Purchase
easy - feels clean - good price
My husband actually swiped this from me! He says it leaves him clean, smooth, not dry, no irritation: he uses it w/every shave, before and after! On here now to order more... times TWO! :) vic4wcom
Verified Purchase
No feeling of cleansing the skin
This product does not give a feeling of cleansing the facial skin. I have to use a lot but the feeling of oily still remains. Not worth buying it again. LovelySkin Customer
Verified Purchase