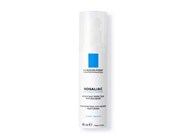 Reviews For
La Roche-Posay Rosaliac Anti-Redness Moisturizer
6 Results
It works.
It definitely minimizes the redness of your skin while moisturizing it well. It's not greasy and it does exactly what it says. Recommend to anyone with red and sensitive skin. LovelySkin Customer
Verified Purchase
Okay moisturizer, not so great redness reducer
I bought this product in the hopes that it would serve as a nice base before I applied my foundation to help counter my very rosy cheeks. It come in a solidly built, pump style dispenser. I only need 1-2 pumps and it delivers light weight moisture. It doesnt have a scent, leave a film or feel uncomfortable. I didnt detect any irritation when I wore it. It did not however counter ANY redness in my skin. The color of the product is a light mint green which makes you think it would counter the redness but after a month of use I could not tell the difference of when I wore this than if I just went straight into my foundation. I will continue using this, its not a bad product, just not what I thought.I looked a little closer into the ingredients and I see that caffeine is an ingredient... why would a product targeted towards a group who has too much vasodilation on their skin want to exacerbate the problem? Again, I want to stress that this is not bad, it just will not counter any redness in your skin. LovelySkin Customer
Verified Purchase
Works!
This might be the only over the counter product that works other than aspirin.It reduces redness on my cheeks and flakiness on my forehead .Using now for maybe 3 years. Prescribed ointments were always short term successful .This might be my first (and only) review I ever wrote. LovelySkin Customer
Verified Purchase
Rasaliac
I love this product. LovelySkin Customer
Verified Purchase
GREAT PRODUCT FOR REDNESS
Wonderful product,use daily for mild redness,helps strenghten myfair skin LovelySkin Customer
Verified Purchase
Anti-redness moisturizer
This product is very expensive, but works well. LovelySkin Customer
Verified Purchase