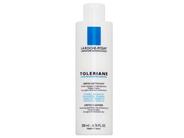 Reviews For
La Roche-Posay Toleriane Dermo Milky Cleanser
$23.99
63 Results
Excellent for sensitive acne prone skin
My dermatologist recommended this to me three years ago when she started me on Retin A for adult acne (and wrinkles). It is extremely mild but it cleans very well and does not make me break out. It is the only cleanser I use. If you are using exfoliating products or are harsh on your skin in other ways this is a great way to make sure that you are not overdoing it with your face wash. LovelySkin Customer
Verified Purchase
Dermo Milky Cleanser
I first bought Toleriane Hydrating Gentle Cleanser, which I like a lot; however, it did not do such a good job of removing makeup. I saw that the Dermo Milky Cleanser removes water proof makeup so I thought I would give it a try. Unfortunately, it did not do a very good job. Fortunately, I bought Micellar Water Ultra and that removes what the cleanser doesn't. Other than that I do like that it is gentle, non-drying, and fragrance-free. PhyllisC
Verified Purchase
An Ally to Sensitive Skin
Dermo Milky Cleanser is an ideal product for sensitive skin particularly prone to rosacea and hormonal acne. LovelySkin Customer
Verified Purchase
Gentle
This is my new favorite cleanser. I have dry and sensitive skin. This cleanser is gentle, does not irritate or dry and does a decent job of cleansing. Consistency of a lotion and fragrance-free. I don't use makeup, so can't evaluate for effectiveness removing it but I use a physical sunscreen. Nice short list of ingredients. LovelySkin Customer
Verified Purchase
Awesome gentle cleanser
I have rosacea that is sensitive to many ingredients in cleansers and moisturizers. This cleanser does a nice job of calmly and effectively cleaning my skin without overly drying. LovelySkin Customer
Verified Purchase
Good cleanser
Good cleanser, gentle to the skin. I prefer this than most of high-end products. LovelySkin Customer
Verified Purchase
Never burns
No matter how irritated or angry my skin is, this never burns. I always have a bottle on hand. BirdieKitKat
Verified Purchase
Love this!
Makes my rosacea, reactive, sensitive skin feel great. Doesn't bring on any flares or produce more redness. LovelySkin Customer
Verified Purchase
Favorite Morning Cleanser
Toleriane Dermo Cleanser gently cleanses my face and does not sting my eyes-as some cleansers do. I have sensitive, Rosacea prone skin and Dermo Cleanser leaves my face feeling silky and hydrated. I also like that it is fragrance-free and can be removed with a soft tissue or with water. I have recently purchased my second bottle. Love the gentleness of La Roche-Posay products. LovelySkin Customer
Verified Purchase
Soft
This cleaner makes your skin so soft and keeps the moisture in your skin! Love it especially during winter months when your skin gets dry. LovelySkin Customer
Verified Purchase
Works well, but prefer another cleanser
The tolerance derma-cleanser works well to clean sensitive skin. I suffer with rosacea, and it was great during a bad flare up. It didn't always do a great job of removing my makeup. I use a different cleanser now that is also great for sensitive skin, but a little better at removing makeup. LovelySkin Customer
Verified Purchase
Gentle Cleanser
This gentle cleanser leaves my skin feeling clean but not stripped. LovelySkin Customer
Verified Purchase
Wonderful, simple, gentle cleanser
In the past few years, I have had a number of bouts with perioral dermatitis (which for me consists of red, rough, scaly, unhappy skin around the mouth, chin, and sides of nose which sometimes has tiny, rashy-looking bumps) on top of my lifelong sensitive, oily-but-dry skin. I experience hormonal acne, various skin allergies, etc. To try to calm, balance, and heal my facial skin, in addition to seeing two dermatologists, I spent hundreds of hours researching what was available/recommended, reduced my exposure to countless potential irritants (household chemicals, foods, supplements, cosmetics, perfumes, etc.), and over the course of several years I tried scores of skincare products, most of which only made my facial skin condition worse. It was so frustrating and expensive. I finally chanced upon the La Roche-Posay Toleriane line (for sensitive skin, fragrance-free). What a difference it has made for me! I use this cleanser, along with the brand's thermal water in a spray-can and the Fluide pump-bottle moisturizer, morning and night. It does not break me out and it is soothing, simple, and reliable. I generally don't wear makeup, so I am able to use a small amount of this cleanser to thoroughly clean my face, and a bottle lasts for about 3.5 to 4 months. Although the instructions say that it doesn't need to be rinsed off, I always wipe/rinse it off a few times with a wet facecloth. Two negatives: a. On occasions when I have worn makeup (foundation, blush, etc.), I found that this cleanser did not do a good job on its own of cleaning the makeup off. If I wore makeup regularly, I would either have to move to a different cleanser or use this one in conjunction with a stronger one. (Of the Toleriane cleansers, this was the only one that didn't irritate my skin.) b. I wish that it came with a pump instead of the flip-top cap and that the bottle were better designed so that the contents were kept as fresh and uncontaminated as possible. La Roche-Posay Toleriane Dermo-Cleanser
The reason I started using this cleanser is because they use it at my dermatology office. I love that it is light and no perfumes have been added. The container stands upright and also upside down when you want to get that last drop. While I haven't tried many others, I am sticking with this. Why look anywhere else when you have found the perfect cleanser? LovelySkin Customer
Verified Purchase
Amazing!!!
Hydrates my skin like it''s said it does. So gentle on my face, I use it every morning in the shower, and I also use LRP dermo cleanser at night for about two weeks and so and no breakout! I now enjoy looking at my clear and bright face in the mirror. I can count on LaRoche Posay
I normally have aging and sensitive combination skin that is still prone to breakouts. I keep this product on hand because every now and then because it is unusually cold, unusually windy or a Tuesday (who really knows why) my skin will become unusually sensitive and inflamed. When that happens the LaRoche Posay Dermo Cleanser is a marvelous product. It takes off sunscreen, dirt and the wear and tear of the day without irritating my skin. LovelySkin Customer
Verified Purchase
Great Product
This is a wonderful cleanser. It is gentle and not oily. It does a great job of cleaning your face. I like it because I can use it on my eyes too. LovelySkin Customer
Verified Purchase
It's OK
This is a very gentle cleanser, but I didn't like how my face felt after I washed it with this product. I always felt like there was still residue on my face no matter how much I rinsed. LovelySkin Customer
Verified Purchase
Gentle
Very gentle on my sensitive skin! LovelySkin Customer
Verified Purchase
Love this!
Such a gentle cleanser. Feels amazing and doesn't cause any irritation to my sensitive skin! LovelySkin Customer
Verified Purchase
Gentle cleanser
A gentle and soothing cleanser, good for my sensitive skin. I also use it as a massage cream. LovelySkin Customer
Verified Purchase
Very Gentle
This is a very gentle and soothing cleanser. It doesn't really remove make-up. It softens the skin, and is absolutely non-irritating. LovelySkin Customer
Verified Purchase
If you have sensitive skin, buy this.
My skin reacts to most everything. This cleanser is awesome. I hope it is never discontinued or reformulated. It removes my makeup, mascara, sunblock, etc. The trick is to use it on slighly damp skin and do two cleanses. Your skin will be calm and clean! LovelySkin Customer
Verified Purchase
Best Cleanser for my Rosacea
LaRoche Posay Dermo Cleanser is the most gentle and completely thorough cleansing product for my extremely sensitive, Rosacea intolerant skin. This is absolutely the only cleanser I use and have for the last 13 years. LovelySkin Customer
Verified Purchase
gentle and effective
It leaves your skin perfectly clean without irritating it. I use it all over my face including eyes. Twice a week I use it with my clerasonic to exfoliate my skin. LovelySkin Customer
Verified Purchase