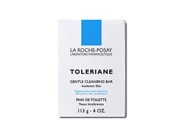 Reviews For
La Roche-Posay Toleriane Gentle Cleansing Bar
6 Results
Sensitive (rosacea) Skin
This bar of soap is absolutely wonderful for my very sensitive, rosacea prone skin. Used Cetaphil Gengle Cleanser prior, and this bar is far superior. Takes off all make-up, sunscreen, etc., with absolutely no irritation, and my skin feels wonderful, not tight. Lasts a very long time (6+ months). Definitely a keeper! LovelySkin Customer
Verified Purchase
Perfect for sensitive skin
I use glycolic acid products and tretinoin cream to fade sun spots and acne scars. When my skin gets dry or irritated, this cleansing bar comes in very handy. It leaves my face feeling clean, without leaving a film that other gentle cleansers can leave behind. I also use this bar all over during wintertime when my skin gets dry and scaly. Love it! Great cleanser!
I use this morning and night. I am thrilled that it is SLS free--SLS really irritates my skin=) Not too dry, not too oily. Will definately continue to use. Gentle Cleanser
I use this product to wash my face in the morning. A gentle cleanser that has worked great for me. LovelySkin Customer
Verified Purchase
Perfect Cleanser
This cleansing bar is excellent. It makes my skin feel clean without feeling dry. The bar lasts for a very long time and is a great value for the price. I use this cleansing bar instead of the more expensive liquid cleansers. LovelySkin Customer
Verified Purchase
The Only Cleanser You'll Need!
I am highly sensitive to SLS's [Sodium Laureth Sulfates and its cousins] which is used in about 98% of shampoos and cleansers. I also can't tolerate natural cleansers which include extracts and essential oils and nut oils (which I'm allergic to as well). It has been very hard to find a cleanser that doesn't break me out in hives, acne, rashes, eczema or aggravate my Rosacea! The La Roche-Posay Toleriane Gentle Cleansing Bar cleanses without leaving any residue and without being harsh, aggravating, drying or sensitizing - this product is as safe as they come. I use this to not only wash my face and body but my hair as well, for I can not tolerate shampoos and/or conditioners of any kind. I have thick, curly hair and live in a very dry climate and this bar does not dry out my hair or skin at all! It washes clean, cleanses well but leaves the areas hydrated and soft. Few ingredients, fragrance free, SLS and soap free, hypoallergenic, and non-comedogenic, this cleanser is all that you'll ever need. Great for Baby skin and highly allergic skin, from head to toe! LovelySkin Customer
Verified Purchase