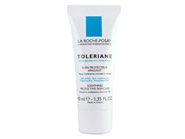 Write a Review - Receive 50 Rewards Points!
Tell us your thoughts about La Roche-Posay Toleriane Soothing Protective Skincare so we can help you find the right products. With your review, you'll also receive 50 Rewards Points. Please note that it may take up to 72 hours for a review to appear on site. All reviews are subject to moderator approval.
Write a Review
23 Results
Great for sensitive skin
I've been using this moisturizer for about 7 years! I have really sensitive skin and it's one of the only products that doesn't make me break out. It's lightweight and good to use morning and night. I can't live without it!
Wonderful product!
This product is just perfect for my sensitive skin! My cousin recommended it to me 2 years ago and I have been using it ever since. It's light, yet a great moisturizer for my day time needs. I always order a couple extra so I can give them to friends and family, and everybody loves the product. This is my fourth, or is it fifth, order already!
good
I use it as a base for makeup. nothing special, but nothing bad. Good cream. The only thing I did not like - structure. I feel fine granules during application. Does anybody feel the same?
My go to skin routine.
This product is the only product I have used that is absorbed perfectly and protects my skin. My daughter is also using it to help her skin. It is mild and feels great. I would be hard pressed to find anything else that works as well.
Perfect for sensitive skin
If you have sensitive skin, this product is a must. I use it at night. My dermatologist recommended it.
Ultra Gentle
If you or someone you know suffers with extremely sensitive skin then give this moisturizer a try. It is ultra gentle but very moisturizing, I even use it around the delicate eye area without any issues. It never stings, never burns, even when applied to irritated skin.
Wonderful
This product is a really great, soothing, anti-inflammatory, moisturizer and great for acne!
good stuff
Great addition to a regimen in need of a moisture boost. Non-oily and fragrance-free. Good for sensitive skin. This is a no-frills moisturizer for someone in need of a simple skin care routine.
For sensitive skin
This is a good basic moisturizer that doesnt irritate my sensitive skin. It has limited ingredients which is ideal for those with intolerant and allergenic skin. This might be a little light for dry skin, especially in the winter.
No Moisture
i have combination skin. this provides no moisture and leaves me parched. since i have to pay return shipping costs, im stuck with it. useless.
good night cream
This is a good night time cream. I find it very creamy and somewhat thick. I have combination skin that is very sensitive. When using this during the day, I have a sheen to my face that I dont like. Very moisturizing.
Great for sensitive skin!
Ive been using this moisturizer for four months now and Im so pleased that it works well for my sensitive skin. I found it after searching endlessly through the Environmental Working Groups Skin Deep Cosmetics database. I wanted a moisturizer that would help my sensitive skin but would not contain any bad chemicals and ingredients. La Roche Posays Toleraine gets a 1 rating from the EWG database which is about as nontoxic as it gets. So happy I found this moisturizer. If your skin is very dry, you might try Toleraine Riche with added shea butter. Its thicker and more moisturizing.
Amazing, soothing just as its listed in the title!
This product has helped me so much. My skin is super sensitive and this is the only product that can relieve my skin from being dry and issues from atopic dermatitis. Its instant relief! So soothing!
Great to use after a facial procedure
This product is gentle, non-irritating and great for sensitive skin -- I use it after a facial procedure such as a dermapen treatment.
Soothing, gentle, protective face cream
My skin is so very sensitive to most facial creams but La Roche-Posay Toleriane seems to be the best light moisturizer I have used, It is very gentle on my skin and if I apply it immediately after gently washing my face, my skin does not turn red and is not irritated. I reapply during the day as necessary and my skin is now quite soft. I plan to continue to use this product and order more.
great for reactive skin
This moisturizer is great for reactive skin. It does soothe and calm my skin when it is very red. It is not super moisturizing so I use a different night cream when my skin feels dry, but it delivers what it promises.
Great nighttime moisturizer
La Roche-Posay products are wonderful for sensitive skin. I use this every night after putting an acne medicine and it helps tremendously with the dryness.
Wonderful Moisturizer
Absorbs instantly, no scent, absolutely no irritation for my sensitive, rosacea-type skin. A must-have!
great
use it every day! cant get enough
The Fountain of Youth Found
This face cream is awesome. I have been using it for the past 11 years and not only does it keep you moisturized but I am convinced it keeps you looking young.
Thank You, La Roche-Posay!
La Roche-Posay Toleriane Soothing Protective Skincare is a must for maintaining my very sensitive skin. This cream does just what the name says it will do: soothes and protects. The moisture is just right - not heavy, not greasy, and I never have breakouts with this product. Absorbed quickly, this cream works well under make-up or sunscreen. I appreciate the absence of scent. For summer and winter use, day and night, this is a great product.
Lovely, gentle moisterizing cream
I use several of the La Roche Posey moisterizing lotions and Toleriane is the lightest of them all. It absorbs quickly and leaves no greasy or residue. It is excellent for dry, sensitive skin and I highly recommend it.
Great winter moisturizer.
This moisturizer is great for einter weather. It keeps my face from getting dry and keeps it nice and moisturized.