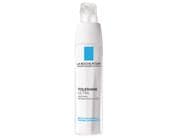 Reviews For
La Roche-Posay Toleriane Ultra
$29.99
41 Results
Just what I wanted:
An unscented, soothing moisturizer that does not leave a greasy finish. The container was smaller than expected, but a little goes a very long way. A keeper! LovelySkin Customer
Verified Purchase
Pretty good
It is pretty good. Non irritating. I would like it better if it was more like the facial lotion. This is greasier but feels less hydrating as the facial lotion. LovelySkin Customer
Verified Purchase LovelySkin Customer
Verified Purchase
LaRoche-Posay Toleraine Ultra
I love this moisturizer!! I have very dry sensitive skin that reacts to everything!! I have been using this cream for years... it soothes my skin and helps me keep my seborrheic dermatitis under control!! I have tried others and nothing helps with the flakey skin that comes with the seb dermatitis... its not a cure and it doesn't take it all away but it's the best thing I have found to help alleviate some of the symptoms, it calms my skin and also helps with the redness that comes along with it. I hope they never discontinue this because this is the only cream I have found that helps!! LovelySkin Customer
Verified Purchase
Finally
Finally I found a moisturizer that does not irritate my skin. I have dry and sensitive skin. Nice consistency and fragrance-free, spreads well, moisturizing and no greasy residue. The packaging prevents contamination, so no preservatives needed. Short list of ingredients with vast majority of them having a good rating on EWG website. I use the Toleriane Ultra Night, and eye cream from the same line. LovelySkin Customer
Verified Purchase
Great for sensitive skin!
I have very sensitive skin/redness and this is the best for soothing those really dry painful itchy spots! LovelySkin Customer
Verified Purchase
Love this product!
This moisturizer has a good feel to it, and keeps my face moisturized all day long. Applying sunscreen after is no problem also. A small amount is all you need. Cris
Love it! Has smoothed and calmed my skin from redness! amazing product. Cristhian
Verified Purchase
Great skin repair!
I tend to occasionally "over retinol" my face leaving it peeling and tender. This cream repairs and soothes my skin quickly, leaving it smooth, soft with the redness gone. Highly recommend it! Azdogmom
Verified Purchase
Another gem from this line
I really like a lot of products from this line, and this moisturizer is no exception! It is a wonderful thick cream with squalane and shea butter and dimethicone for barrier protection. BirdieKitKat
Verified Purchase
Creamy and soothing
It's great for the winter or times when my skin is irritated or dry. It also works great as an under-eye cream. Knisholm
Verified Purchase
Too greasy
This moisturizer is too greasy/oily for my sensitive skin. My face turns hot and red after applying this. LovelySkin Customer
Verified Purchase
SUPER GOOD!
Very hydrating, spreads easily, doesn't clog pores. You only need a tiny bit to cover your whole face. It's one of my favorite products! I like it
I like it because help to kept my skin moist it doesn't break me out and not oil that all. I'm using this moisturizer at night and morning and my skin looks great it helps with my open pores too in the beginning I was afraid to used it because I'm oily and sensitive skin but now it's perfect for me . LovelySkin Customer
Verified Purchase
Great product with great dispenser
Love the new and unique design of the plastic liner inside the bottle that allowed me to use every last drop. All cosmetics should be packaged this way. La Roche-Posay products are the best and I discovered them years ago upon recommendation by a plastic surgeon. My skin is sensitive and the Toleriane works well. LovelySkin Customer
Verified Purchase
Decent moisturizer
Although it's calming and does not aggravate or sting, I gave 3 stars since it's not as emollient as needed for my skin type. It's a light moisturizer, so I need to add a drop or 2 of jojoba oil. LovelySkin Customer
Verified Purchase
Awesome for Sensitive Skin
I have ultra sensitive skin and during the cold weather my skin also gets very dry on my face. A dermatologist recommend this product and I absolutely love it. Ordering from LovelySkin was very easy, with fast free shipping. lilgabby57
Verified Purchase
Reactive Skin Soother
My daughter has beautiful peaches and cream skin, but tends to deal with dryness in the winter. She has difficulty finding a moisture cream that doesn't cause redness and irritation. We tried this La Roche-Posay Toleriane Ultra as a sample and after trying it, she asked for a gallon of it!! So glad to find a product she can depend on. And, I'm so glad for the expert descriptions and recommendations from LovelySkin that help us find the best products for our needs. Nice Product
This is a good economical solution for dry winter skin. Sensitive skin helper and very teeny
Great for sensitive skin. Helps reduce rosacea and keep eczema away. The bottle is itty bitty though! I hope the company that makes this product can make a value size or something along those lines because it's more of a travel size bottle then full-size, so I run out very quickly. Great product
Prefect for dry skin Perfect for sensitive skin
Nice consistency, absorbs quickly and just the right amount of moisturizing for daily use. I felt like I was getting clogged pores from my previous ultra thick cream. Great product
I love this moisturizer. This is my third from the series. LovelySkin Customer
Verified Purchase
Toleriane Ultra
This was my first time trying this product, my sister recommended I try it. Couldn't be happier! The price point is excellent (I bought it on sale) and my sensitive skin feels calm and lubricated. It's not heavy and is absorbed into the skin. LovelySkin Customer
Verified Purchase
Love, love, love
This stuff is amazing. As I get older and especially as the weather gets colder my skin gets drier. This product has helped my skin immensely. So glad that you sell this line.