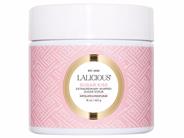 Reviews For
LALICIOUS Extraordinary Whipped Sugar Scrub
Great scrub!
This is a very luxurious scrub and smells fantastic! Leaves my skin very soft. LovelySkin Customer
Verified Purchase
Do not order the birthday cake!
I LOVE Lalicious, I've tried about 5 or 6 scents from them and bought from this site and their site as well. I'm not sure if I got a bad batch of the birthday cake one or what but it has this musty smell and smells AWFUL on my skin. I almost want to throw it away but I spent so much on it I don't know what to do at this point. I used it and rubbed a bunch of lotion on myself after I showered to cover the smell. Bmariemoo08
Verified Purchase
Love it
Bought vanilla brow sugar, smells amazing, sweet vanilla, but this scrub contains some kind of grease that remains on your skin and throughout the bathtub, come to wash again yourself and the bathroom. LovelySkin Customer
Verified Purchase
LALICIOUS Extraordinary Whipped Sugar Scrub
This is such a yummy sugar scrub: feels luscious going on and leaves your skin silky smooth; plus, the fragrance is addictive! LovelySkin Customer
Verified Purchase
I really wanted to love this
The smell is amazing, but my product was a little dried out. Great for a "pre-shave" on your legs but not sure I would use it for much else. LadyWilder
Verified Purchase
Gentle Exfoliator
The body scrub feels great on the skin and isn't abrasive at all. LovelySkin Customer
Verified Purchase
Fixed my dry skin
Just what I needed - a moisturizing scrub. My body drank it in and my dry skin stopped itching. Lotion wasn't enough to combat the dry climate in which I live. I won't be without this and a lalicious body cream. LovelySkin Customer
Verified Purchase
Hydrating as well as exfoliating
I am totally obsessed with lalicious scrubs and body lotions. They smell amazing and the scrubs are moisturizing. I like it
Nice sugar scrub. I bought sugar kiss and it smells wonderful! Makes skin soft too LovelySkin Customer
Verified Purchase
Lovely
Well this was a pleasant surprise. I've seen this brand before but through it was too pricy at the time. I seen it was on sale on LovelySkin and bought the small size in brown sugar vanilla. It's very nice. The smell is natural and sweet. When you use it, you get a short amount of time to actually scrub the skin before the sugar crystals dissolve which is fine. Leaves a nice moist layer on the skin as well. LovelySkin Customer
Verified Purchase
Favorite scrub
I have tried many scrubs and sugar scrubs, and this is the only one I use. Sugar Kiss is my favorite scent. I use it on wet skin in the shower, it's a good, gentle exfoliant and melts into my skin. I pat dry and it leaves my skin very soft. I am only loyal to brands I love, and I also use their melt, body butter, body wash and their oil (not as crazy about that one). Sugar kiss scrub
Love love sugar kiss scrub. Smell delicious and sleep better. Have given it for several Christmas gifts. Strong unnatural scent
While the scrub itself is as nice as the others, I was disappointed in the scent. Based on other reviews I was curious about this one but I did not like Sugar Kiss. Lalicious peppermint
Nice scrub- the whipped texture makes for easy application and is enough to exfoliate without irritating. Leaves skin moisturized and soft. I am ordering more as gifts. I will definitely use again. LovelySkin Customer
Verified Purchase
Smells great
Very good, exfoliating, moisturizing and smells great! LovelySkin Customer
Verified Purchase
Spa Like Body Scrub!'
I read other reviews and had to try. I have several of these "flavors" and Sugarkiss and Lavendar are my favorites. The scrub leaves your skin feeling sod and polished with a really nice scent. I even bought the matching oil for the bath too. This is the best at home "spa like" body scrub!! LALICIOUS Extraordinary Whipped Sugar Scrub
LOVE! Has a great smooth, clean feel. I use it every time I shave my legs now. LovelySkin Customer
Verified Purchase
Love this
The lavender sugar scrub is scrumptious!! Smells so good! Love it! LovelySkin Customer
Verified Purchase
Very moisturizing
Use this twice weekly and leave my skin soft and moisturized Skin is So so soft
I found this product on the Staff Favorites and purchased it. This wonderful scrub smells divine (peppermint) and my skin is so soft after only one use. I use this on my whole body and spend some extra time on elbows, knees and feet. I'm so glad I added this to my cart. Luthrngrl
Verified Purchase
Fantastic
This is a wonderful scrub. I bought it at the beginning of fall to slub off the dead summer skin. Works wonderfully and very moisturizing. I highly recommend. LovelySkin Customer
Verified Purchase
Smells fabulous
I would have given five stars if it worked more as a body scrub like I'm used to. It dissolves fast, but smells great and leaves skin silky smooth. It feels more like a body butter instead of a scrub to me. I ran through to fast, I feel this product you would have to replenish every couple of weeks. JackieO
Verified Purchase
Absolutely LOVE IT!!!!
I have super sensitive skin and so far this is the only scrub that does not give me a rash. It makes my skin feel so smooth and soft. My kids always beg to use it as well. I look forward to my shipment every month. Cassi6371
Verified Purchase
Smooth Paradise
I absolutely love this stuff! Leaves my skin so soft and the scent sends me to paradise every time I use it. The coconut oil is lovely in it. It's going to be my new go-to exfoliant. Itsjustme
Verified Purchase
Very hydrating and smells great
I'm working my way through the different scents and have not found one yet that I don't love! This is great for exfoliating and hydrating at the same time. LovelySkin Customer
Verified Purchase