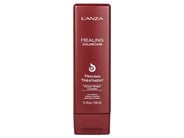 Reviews For
L'ANZA Healing ColorCare Trauma Treatment
12 Results
Amazing!
This product has transformed my hair. Dryness is gone, softness and shine are back. It has really helped with hair breakage and it has a wonderful scent. LovelySkin Customer
Verified Purchase
Will use nothing else
L'azna You can leave it in or rinse it out. I use a tiny amount and rinse. It leaves no oily residue in my hair. Just leaves it manageable and soft. Belight
Verified Purchase
L'ANZA Healing ColorCare Trauma Treatment
This is a great product. Keep my color for weeks longer. My hair feels good and healthy when I use L'ANZA Healing ColorCare Trauma Treatment. Works
I received a sample and used it after having my hair colored I couldn't believe how great my hair looked and felt. I bought a bottle and plan on purchasing more Lanza products Flowers
Verified Purchase
I love my hair again!
My hair had become dry and dull. After using this conditioner one time my hair was shiny, silky and beautiful again! My hair is very fine and this product did not weigh my hair down. I've already used it on three occasions and very happy every time! Thanks L'anza! Hello Shiny! My old friend where have you been?
Ok so about a year ago I took my ultra dark hair and gradually began bleaching it with highlights every 4-6 weeks to hide my grays. I chopped off nearly 12 inches of hair, and have been rocking a very grown-up, tousled, blond bombshell short lob which I have a love hate relationship with. Enter the free sample. It was like going from straw to silk in one application! And know what? I didn't even read the directions for most intense conditioning, I washed it out! Yikes! Of course I ordered, of course I will now leave the product in, of course I will now stop dropping huge dollars on other products in search of an HG, this is it! And last but not least, of course I'm going to continue to blonde because I really am having way more fun! ProductAddict40
Verified Purchase
The best color hair treatment
L'anza has helped my hair so much. It is so soft I can't keep my hands off it. Great Product
My stylist recommended Trauma Treatment to me after I had dried out my fine textured, blonde hair with a dryer that was too powerful. I have long hair, so I place about a two-inch diameter amount of this product in my hand, rub both hands together, and then distribute throughout my hair before drying. She said any additional styling products should follow this one. Although some of the softness immediately returned after using this treatment, it took a few months of consistent use before my hair returned to normal. My hair is soft and manageable again, and a huge part of that resulted from this product. Love this product
Received a sample which has lasted a week. In the one week, I've already noticed a difference in my hair. I decided to buy this along with the shampoo and conditioner. For reference, I have curly long hair that's color-treated with highlights. Hair was breaking and I have noticed less hair fall with this product. LovelySkin Customer
Verified Purchase
I apreciate!
It is the first time that I use ColorCare in my hair. As I know the great quality of Lanza products, I decided to try it. I liked very much the result. Approved!! Fabulous for wavy hair, does not leave hair crunchy!
I use this as a leave-in conditioner to tame frizz and hold my curls together. It's not a gel, and doesn't make my hair hard and crunchy (can't stand that!) Gives just the right amount of definition while staying soft. I've tried tons of other products in this category, in different combinations, but this is one single product that gives me the result I want. Millefolium
Verified Purchase
Best treatment for my color treated hair!
I love this treatment! I leave it on in the shower as a deep conditioner for 5-10 minutes and then rinse. It makes my hair feel so soft and manageable. Definitely recommend! AnnieLori
Verified Purchase