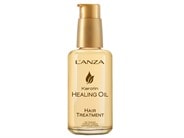 Reviews For
L'ANZA Keratin Healing Oil Hair Treatment
$31.00
10 Results
Radiant shine
I have not been disappointed by any of Lanza hair products and the Healing Oil is no exception. It has made my thin hair not only look fuller but has given it a radiant shine. Helps heat damaged hair!
I decided to try this after a recommendation from a hairstylist that uses this on her own hair. I'm using it every day and am happy with results. Put it in towel dried hair before using my blow drying brush. My hair is much smoother and it lasts a long time. LovelySkin Customer
Verified Purchase
Dull to lively
I have been using this on my towel dried hair just before blow drying. It leaves my hair silky and vibrant without weighing it down. I am careful to avoid applying near my scalp, as to avoid oily hair. MamaP2020
Verified Purchase
Excellent product
I purchased this product because my hair is so damaged for color, sun, etc. I was not sure to spend that much money when you have other choices a lot cheaper in the market, but the reviews help and I purchased. Since day one my hair start to improving, I think I will use this oil as a part of my routine care, highly recommended! LovelySkin Customer
Verified Purchase
Ooo la la.. L'anza
I really like the L'anza healing oil. I tried it because I learned that some oils for hair come in dark bottles- something to watch out for. The dark bottles can hide darker colored oil which can affect hair color. L'anza oil is in a clear bottle and light in color. I love how it not only heals the overall texture of my hair, but it adds shine and silkiness, too. I feel like I'm adding g a nourishing vitamin to my hair. I highly recommend this product! In addition, a little goes a long way- 1 pump and it covers my entire length. LovelySkin Customer
Verified Purchase
Best Product
Love, love the softness it adds to my hair! I use it daily! LovelySkin Customer
Verified Purchase
Grossly overrrated
I had high hopes for this oil and did a lot of research beforehand. I have used all kinds of hair oils over the years. This did nothing. It made zero difference with frizz or the general summer humidity-induced unruliness of my hair, which is very wavy and thick. It also did help with softness or smoothness. Very disappointed. LovelySkin Customer
Verified Purchase
Works great with the straightening balm
I am using this as part of my self hair straightening system. This oil on the ends of my hair is helping the smoothness and condition of my hair. LovelySkin Customer
Verified Purchase
Healing Oil
This oil is thicker than most, which I consider a positive. I also appreciated that it contains keratin. It genuinely makes my hair feel silkier and healthier and the results lasted longer than most products. Really like this product
I have tried several different oil products for my hair. This Lanza product is my favorite. It makes my hair shiny without oily. I have curly hair and dry my hair slightly with a towel and then put a couple drops of the oil in my hands and rub it into my hair. It always looks great!