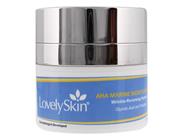 Write a Review - Receive 50 Rewards Points!
Tell us your thoughts about LovelySkin AHA Marine Moisture so we can help you find the right products. With your review, you'll also receive 50 Rewards Points. Please note that it may take up to 72 hours for a review to appear on site. All reviews are subject to moderator approval.
Write a Review
25 Results
AHA Marine Moisturizer
Really like the cream as it does not clog pores and really keeps my skin feeling moist. I would have given 5 stars but the small dispenser hole did not work so I just unscrew the jar instead. Overall great product for the price. Will purchase again.
Would not be without this product!
I've used AHA Marine moisturizer for years. My facialist recommended it to me. A local dermatologist sold it - so much more. So glad I found it on this site.
LovelySkin AHA Marine Moisture
I started to use this product in 2014. My dermatologist recommended it. The results are amazing since my skin looks moisturized and soft. I have dry skin. I really encourage people to buy it!
LovelySkin AHA Marine Moisture
I've been using this product at night for awhile now. I have sensitive skin and I love how light and smooth it goes on my skin. Great product!
Great Product
Ive been using this product for about nine months.My skin has never looked better and heather!
Most effective moisturizer bar none!
LovelySkin AHA Marine moisturizer not only improves the texture of your skin it minimizes pores, lightens dark spots and best of all makes your skin feel soft and supple. It is the creme de la crème of moisturizers plus so reasonably priced. You will love the results...
LovelySkin AHA Marine Moisture
Love it! Even for an ol bag like me (at 64), it is VERY moisturizing, leaving my face very soft. Also has a very nice scent.
Must have!!!
I have very sensitive skin and I found this lotion to be very calming. I was worried about the scent, but it hasn't broke my skin out and it leaves my skin feeling soft and smooth! I am a fan of Glytone, but I have now added this lotion to my skin care regimen!
LovelySkin AHA Marine Moisture: Love it, Love it, Love it
Ok, I'm a guy who likes nice skin, especially my facial skin. This product just feels like it is doing something very good for you. I use it following shaving with a blade and in the morning before I apply sunscreen. At times I use it if I have been outside and in the sun. I cannot adequately describe the intensity when I apply this cream. Maybe another reviewer can give a better description. I will use this product as long as it is available. +
Nice moisturizer
Love this!!! My skin is definitively smoother and brighter. This moisturizer is medium weight, not too heavy...not to light. It absorbs nicely, plays well with other products, and smells nice too. This product has also helped shrink my pores. Thanks. L.S.
Been using for over 15 years
I love this product. An aesthetician introduced me to it over 15 years ago. At 55 I can still break out so the AHA works for lines and acne. I also use the salicylic face and body wash. I pretty much stopped wearing make up when I hit my forties. This does everything I need. But, they keep changing the packaging, making it more and more challenging to use every drop. First they made the jar smaller, then they went from glass to plastic, and now you cant even open the jar. You press on the plastic at the top and a portion pops out. I havent started that container yet but I can already say I dont like it. BTW, this product is sold in many places with many "spa" aesthetic products under various names. I buy it here for the price, especially when its on sale. Service is good and I like the samples.
Great product
I started using this 6 months ago when my face kept breaking out after my surgery and I dont have break outs anymore. Its very moisturizing too.
AHA Marine Moisture
I have had to hunt this product down since my old aesthetician introduced it to me 8 years ago I am glad to find it again on LovelySkin. It is the ONLY moisturizer that does not cause me to break out. If they ever stop making it I will be completely lost!!
aha marine moisture
this marvelous cream does everything in its description--provides great, lasting moisture, minimizes lines (i can see a difference!) and lasts for months. i have been using it for 3 years and will continue to do so.
The best moisturizer I have ever used
I first used this product after having laser resurfacing on my face. I loved the "sea" light smell of the product in my face (it has no perfumes, its produced by the algae contained in the product) but very light - so much so, that the first couple of times I used the product I thought they had changed the ingredients! In any case, I started by using resurfacing discs (just an OTC product, probably could find better quality here) and after my face is completely dry, I apply the AHA Marine. The cream is very light, white in color, has no greasy whasoever and a little goes a long way being absorbed by the skin very fast. If you go outdoors, you should apply a sunscreen above it, since this cream DOES NOT have sunscreen which I love! I was unable to find this product for many years, but since I purchased it at LovelySkin two weeks ago, my face feels VERY soft, the acne scars that could not be removed by the laser all those years ago, seem much smaller and barely visible, my pores are very hard to notice and the redness I suffer from is also starting to disappear. I wholeheartedly recommend this moisturizer, and for the price, you wont find any product even close to it. Hope this helps you :)
By far, the best moisture cream for delicate skin
After having tried some other excellent products from LovelySkin, I found that this moisture cream is the most gentle to my face, and elicits no painful or stinging reaction as some other face products for hydration do, It genuinely moisturizes and softens my skin and can be lightly reapplied if necessary as the day goes on. I also found that I can put my tinted sun block cream over this without it lumping up. It goes on smoothly as does any liquid face makeup. I use a tiny quantity to rub on my eye lids to keep my lashes from getting dry. I am thrilled with this product and plan to reorder when I use it up.
Its the best
I have been using this product since Dr. Loretta Ceraldo first introduced it to physicians which is over 20 years now. It has kept my skin soft and wrinkle free with no hyperpigmentation. When I was the administrator at a busy plastic surgery center, I recommend this product to all of our customers. Today I still recommand this product to anyone who is looking for a great skin cream.
smoothing and moisturizing
I have been struggling with a plateau in results from retinol treatments and was looking for something to help with texture and hyper-pigmentation. I decided to go back to glycolic acids. As I was searching through the top-rated products, I was disappointed to see many still use parabens (which I try to avoid if possible). I came upon this LovelySkin product and decided to try it, especially since it is more competitively priced. I have been happy with the way it helps keep my skin clearer (I still get occasional adult acne) and smoother. Also it is rather thick and moisturizing while not being the least bit greasy. I think I just might have found my new night cream!
A must buy!
Really nice mouistrizer, doesn't feel too heavy, can wear day or night. Has definitly helped with my skins pigmentation and overrall appearence. Competes with any brands!
Love the product!
I will buy it again! I think it is comparable to Sothe Nocturelle!
Great Product!
This is definitely one of my favorite products! It definitely helps remove the dead skin and my skin is very soft now. highly recommend it!
Great moisturizer
Love the moisturizer! Skin feels great after only a few days using it.
Cathrine, Sweden
I can highly recommend this moisturizer, my skin is now soft and I have a lot less breakouts, the cream is light and non-greasy you can really feel how it starts to work when applying. I am very happy to have found a cream who actually works.
Love this Moisturizer
I love this moisturizer. It is light, not greasy, and keeps my skin feeling healthy without my face breaking out from allergies or acne.
great moisture
I love this moisturizer! My skin looks great since I have been using it!