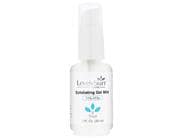 Reviews For
LovelySkin LUXE Exfoliating Gel Mild 11%
36 Results
Gets rid of acne fast
I use this as a spot treatment. It's the best I've ever used! Literally overnight my blemish is gone! LovelySkin Customer
Verified Purchase
Write a Review for LovelySkin LUXE Exfoliating Gel Mild 11%
I really like how is making my face look. Will repurchase. LovelySkin Customer
Verified Purchase
Strong and gentle
My skin is very sensitive. I haven't tried this all night as directed on the bottle. I use it for 2 hours and then take it off. I hope I will build a tolerance and be able to use all night. I want to experience all the benefits of this exfoliating liquid. RhTempe56
Verified Purchase
Love!
I have just ordered my second bottle of this product and love it! It is very gentle but provides wonderful results. I usually leave this gel on overnight and have seen diminished lines and wrinkles and an overall improvement in tone, texture, and clarity. The greatest improvement has been in the clogged pores on my nose, and they are much cleaner and finer looking. It seems to be fading some of the uneven pigmentations as well. I chose to stay with the Mild 11% gel for another bottle because I have sensitive skin and don't want to irritate it or cause rashes which happens often with new products for me, but I have had no irritation at all with the 11% gel. Others have commented on how good my skin looks for 56. Will continue to purchase but increase strength gradually. Thank you for a great product! Nice
I use this product in my T-zone. I have combination skin even as an adult, and this works great. I can't use it every day because it is too drying. But, I do use it twice a week. The price point is nice also. Thank you, LovelySkin. LovelySkin Customer
Verified Purchase
GREAT PRODUCT!
I purchased LovelySkin LUXE Exfoliating Gel Mild 11%, after reading the great reviews and was amazed at the results. I have combination skin I used the gel at night on clean skin, 3 times a week, with no irritation. In the morning, my skin looks clearer & radiant! Blemishes are healing and my large pores are much tighter. I will try next, the 15% gel. I definitely recommend this product. Alex369
Verified Purchase
The Best!
I only use this for 2 hours at night and then wash it off. The next morning my skin looks AMAZING! Blemishes and redness are toned down and pores are much tighter. I will definitely repurchase once I use this first bottle up. Great product! LovelySkin Customer
Verified Purchase
Excellent
Love, love this product. I saw immediate results. It makes my skin softer, brighter and more even toned. It seems to make my pores smaller as well. I will definitely repurchase. LovelySkin Customer
Verified Purchase
Awesome product!
This product is amazing. I could actually see my skin looking smoother after the first day. Would definitely recommend. LovelySkin Customer
Verified Purchase
love it!
This product is excellent for exfoliation..makes skin look so good! LovelySkin Customer
Verified Purchase
great exfoliating treatment
I love this exfoliating gel because its gentle enough that it doesnt cause any irritation, but has gradual cumulative effects. Very mild but effective. great product
i love this product. It is so mild that you can use it every night ,my skin is glowing every morning LovelySkin Customer
Verified Purchase
Better skin
tried this product via a sample and was pleased so bought the full product and am pleased with the results. Will purchase it again. LovelySkin Customer
Verified Purchase
LOVELYSKIN EXFOLIATING GEL MILD 11%
This product is wonderful. My very sensitive skin likes this exfoliating gel. It never leaves my face red and sensitive but soft and clean. My husband even noticed the difference in my skin with this exfoliating gel. I first used it as a sample from LovelySkin and will not be without it for my skin care. LovelySkin Customer
Verified Purchase
Smoother Skin
I got this product as a sample, so gave it a try. It made my skin feel smoother and softer after just a few uses. I use it at night... after washing and drying my face, I apply the exfoliating gel and allow it to dry, then apply night cream. I have sensitive skin (mild rosacea), so I started slowly, but I am now able to apply nightly without any irritation. LovelySkin Customer
Verified Purchase
Great exfoliant- especially for the price!
This gel is non-irritating and really does work. After a few uses you will see the difference in your pore size and the brightness of your skin. Will definitely purchase again. Gentle and it works!
It is very effective. As soon as I apply on my skin and I can see the result right away. My skin texture has become smoother and brighter. I have oily combination skin and I use it twice a week at night time. It doesnt dry out my skin at all. Love it! LovelySkin Customer
Verified Purchase
LovelySkin Exfoliating Gel
Love, love, love this stuff! I received a sample of the mild exfoliating gel with another order and decided to give it a try. I put it on after my evening shower and slept with it on (the sample did say that your first application should only be left on for 2 hours). The next morning, my skin felt amazing. I was really skeptical that a gel could exfoliate my skin, so I was pleasently surprised to fell how smooth my skin was that morning. After using it 2-3 times a week for a few weeks, I can definitely say that I see a difference in my skin. Its brighter and clearer, and my skin tone is more even. Ive seen fewer breakouts as well. REJUVINATING
After applying the exfoliating gel at night my skin always feels refreshed in the morning. It leaves your skin feeling like you got a mini facial everyday. Can't say enough about this product. I would recommend it to anyone. LovelySkin Customer
LovelySkin Employee
Amazing!
I love this product. When you apply it at night, the next morning you can see and feel the results. It really helped with my pores, texture and skin tone. Is a must to have! LovelySkin Customer
LovelySkin Employee
GREAT
i do like this Liquid-Gel type, does not dry or flake my skin. I use it every night only as an acne treatment. It tingles a bit when i apply in sensitive areas, like the sides of my nose and upper lip, but it goes away pretty fast. It is something that does not bother me at all. LovelySkin Customer
Verified Purchase
awesome!
Holy smokes this is an amazing exfoliator. i have put my skin through the wringer over the years and it sometimes hates me--this exfoliator is tough enough to get some work done but not so strong that im left red and flaky for days. I use it every day and my acne scares have really lightened up. Very drying
I have been using this product for one week and I really hope it gets better. I have faithfully been washing with the cream cleanser, then using toner, then exfoliating gel (night only), then moisturizing. My skin has been flaking a lot! It doesn't matter how much moisturizer I use my skin won't stop flaking. I hope this just means it's working and in a few days I'll have the soft, smooth skin that everyone else writes about in their reviews. Is anyone else having this problem? I'll update in a week. Excellent product.
Gentle and makes my skin feel very clean. LovelySkin Customer
Verified Purchase
Noticable Difference After One Use
I received this as a free sample, and after the first use, I could tell a noticable difference in the texture of my skin. I have been using it for approximately one month now and love what is has done for my skin. It is one product I will not be without! LovelySkin Customer
Verified Purchase