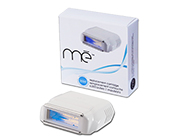 Write a Review - Receive 50 Rewards Points!
Tell us your thoughts about me smooth Elos Replacement Cartridge so we can help you find the right products. With your review, you'll also receive 50 Rewards Points. Please note that it may take up to 72 hours for a review to appear on site. All reviews are subject to moderator approval.
Write a Review
14 Results
Works if willing to give it time
I have olive skin with dark hair. This product definitely works. You must be persistent! I have been using it now for a year and a half and noticed results after two-three months of frequent 1-2 times a week usage with going over every area 2x. After that I have been using it every 10-14 days going over areas two times for maintenance. The hair that does grow back is much finer. No in grown hairs. My pubic area is flawless but I've definitely missed spots on my legs which just takes time. In the beginning I was very dedicated, but definitely have been more lax and have great results still. Just be willing to spend about 30-45 minutes if you want to do arms legs and pubic area!
VERY HAPPY WITH THE RESULTS
i was thinking of going for treatment instead of actually buying the device, but i purchased it for about 200$ or so and i also purchased the replacement. honestly i was very surprise with the result, it does work.. you just have to be consistent with it. i noticed a HUGE reduction i hair growth.. i used it once a week for 10 weeks straight and now i use it as needed maybe like once every 3 weeks.. the device (Elos me smooth) was expensive and the replacement is pretty costly as well, but i thought it was worth it.
This works
I tried other models of hair removal products. I returned 2 simply because they did not work! Then, I tried the Me. It worked so well I purchased a second for my daughter.
Still can't tell if it works much
When I first got the me smooth Elos I used it pretty religiously for a couple of months. I really did feel like I was seeing a subtle change in the amount of hair that grew in those areas. I stopped for a long stretch and have picked back up with it, but the challenge is devoting the time and being consistent. I'd be better about the routine if I'd seen stronger results.
Takes time but it works!
This really works! Takes a long-term effort but I'm happy with the gradual results. I don't have to shave my legs anymore, I just epilate and treat simultaneously with the device - I use it once a week. Goes a lot faster than it used to.
Product is great!
The product is great. The shipping was a bit disappointing. Tracking showed it was to be delivered on a Friday. By the following Tuesday I still hadn't received it, and it was still in the same spot as the Friday date. I contacted LovelySkin who basically told me to "just wait longer" and that it was out of their hands now because it was at the post office.
ME Smooth Elos Replacement Cartridge
I have had my ME Smooth for 2 years. This machine works well and the replacement cartridges are reasonably priced. I have dark hair and medium complexion and it has worked as well as professional treatments, you just have to stick with it. I actually do 3-4 pulses per area instead of just one. LOVE my ME Smooth!
Great Investment!
I bought the ME from LovelySkin a few months ago. It came with one replacement cartridge and I just bought one more. What a great product! I spent a fortune on laser hair removal and it all grew back. Now for a fraction of the price Ive done it myself with no pain and I can keep it maintained myself with the replacement cartridges. Ive done my legs, underarms, and bikini line and am basically hair free. Once in a while Ill go over the area again to get the stragglers and thats why I love the replacement cartridges. You cant go wrong with this product!
Great product!!
I am so very pleased with buying 2 ME cartridges on SALE and arriving well packed, in working order and most impressed with the quick delivery....LovelySkin rocks!! ME works, although it takes time and a routine to become and stay hairless.
Love this
Easy and convenient way to get rid of hair. Replacing the cartridge is simple. Thank you again LovelySkin for providing wonderful products.
ME laser hair removal
I have had professional laser hair removal done on my face and purchased this system more for body and just continued touch up on face. The professional treatment does not work on any white hair which at the time (when I was younger) was fine. I find as I age and my hair turns white on my head....lol....well you get it! I have used this product 2 out of the 7 times and have already noticed a decrease in hair on my legs (markedly) and am very happy so far....I purchased extra cartidges for continue use and will update if there is any changes!
EXCELLENT PRODUCT!
This cartridge, and the entire Me Smooth system, is excellent for permanent hair removal of any hair type. I am Southeast Asian, and our coarse hair usually grows back quickly after shaving and waxing. However, after laser removal with Me Smooth, I can go up to a month without needing to shave! SO GREAT. LovelySkin also always has the best prices (and free shipping) of any e-retailer!
A must have product
The previous reviewed did not give this a chance. First and foremost, this is not an in-office laser. The results take longer to achieve. Secondly, depending on skin and hair color, the results will vary. I have light to medium olive skin and hair color is brown. I am the perfect candidate for hair removal and have had professional removal. However, it is not truly permanent and fine hair does grow back. Rather than spend $500 at the doctor's office for touch-ups, I use the Me Smooth. It is simple to use and works great. I had not lasered my arms and decided from grins to try it to see how well this works. Even being inconsistent (which I am) I have very little hair on my forearms now. I once had a Tria and that was a waste. Covers a very small area, takes a long time. This is the best product on the market for at home hair removal. Hands Down!
Me Smooth Elos Replacement cartridge
I wanted to give the Me Smooth Elos Hair Removal System a fair chance. I am currently using my third cartridge. Once a week, I epilady then I shave to make sure all the hairs are removed then I use my Me Smooth system. I would say I have a 20% reduction in body hair. At this point, I would not recommend this system. I will update, if I notice an improvement