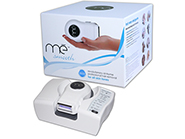 Write a Review - Receive 50 Rewards Points!
Tell us your thoughts about me smooth Hair Removal Device so we can help you find the right products. With your review, you'll also receive 50 Rewards Points. Please note that it may take up to 72 hours for a review to appear on site. All reviews are subject to moderator approval.
Write a Review
16 Results
Great Product!
I have only been using it for 3 weeks, it's easy to use. I have noticed less hair! Would definitely recommend it.
Takes time
This product works but takes time, the key is doing it on a routine. I have seen a reduction of about 70% over a 2 year process. The hair that does grow is thinner, and takes weeks to grow back. This will not permanently remove but it does permanently reduce the hair growth and that makes me happy for now until something more permanent is developed for use at home because I've been to a dermatologist and the cost and time is inconvenient for me.
DOES NOT deliver what it promised
I agree with most of the reviewers here. This product works for the first 3 attempts if you exclusively follow the provided directions. However, after that youre back to square one. If you continue shaving in between sessions then you will grow the hair back as it was before you started using this contraption.
Not sure on this product
I have been using this for more than the 7 weeks stated in the directions and as directed. I was especially interested in reducing facial hair but have also been treating my underarms and bikini line. I possibly see a small amount of hair reduction but it is far from being gone. Will keep on trying since I have made the investment with the hopes that it justntakes a little longer.
hair removal device
great product
Patience & Continuity
I have owned this machine for almost 6 months, but have only used it sporadically only on my legs. I figured it was worth a shot, since it was not as expensive as those med spas (which i had my underarms done and it cost a fortune)! Still, not all the hair on my underarms are gone - so i shave them every few weeks. To my surprise, two weeks ago I noticed there were spots of missing hair on my legs. Whaaat? this stuff actually works.. So now I am using it like I am supposed too. I also started using it under my arms to hopefully rid of those final straglers. Patience and continuity are important factors if you want this machine to work for you.
Is working, just be patient!
I will be honest, I havent been religious on following the directions. I may miss a week or two or three even, here and there. Ive owned the machine for about 9 months and I see areas on the legs that the hair is not returning. Now granted I want that all over the leg but if I keep zapping my legs, Im sure itll happen to the other areas that are being stubborn. The hair that does return is a bit finer but still noticeable as I am a brunette and my body hair shows on my fair skin easily. I have faith that even if I am not following the directions to the "t" I will get the results I want. Patience and diligence is whats needed. I say give it a try, it seems to be working!
Effective and Easy to use
I bought the Elos Me Smooth Hair Removal device several months ago, and I had intended on writing this review sooner. I have had professional laser hair removal before, and this device is just as effective, and a delight to use in the privacy of my own home! I saw results within the first few uses, and the treated areas have gotten consistently smoother with every treatment. I have dark olive skin, so not all lasers are safe for me to use, but I have not experienced any depigmentation or melasma with this device.
It really works!!!
I am so happy with this product. I went through laser hair removal 10 years ago and it never completely worked and it cost a fortune! Now I can do it on my own for so much less money. It worked beautifully under my arms and on my face. My bikini area is requiring a lot more sessions and Ive just started on my legs. Hopefully Ill be ready for summer clothes in no time. This is expensive but compared to doing it at the dermatologist it is a deal. Also, it doesnt hurt!
Wonderful, wonderful
I bought two of these-one for me and one for my daughter. We are both very pleased with the results. Got this product during one of LovelySkin's sales-could not beat the prices. Thanks LovelySkin!!
Not seeing results
I have been following the instructions to the letter for nearly three months and I still havent seen noticeable results. Ive been working on my lower legs, bikini line and underarms. Ive used one cartridge and the current one is at 50%. Ive mostly been using the medium setting and have been shaving prior to treatment as instructed. I usually run the devise over an area 4 times. Despite all this, I still have nearly 1.5 mm of growth on my legs (yes, I measured) after just 3 days. This isnt at all what I expected. I am very disappointed.
Yay Me!!!
I have had my Me hair removal for about 2 months and have been using it between 1 to 2 times a week and I see a tremendous difference. I have dark hair and had a lot more hair then I wanted. I have used it on my under arms, arms, legs and bikini area and now I can go for a week without shaving and have just minimal growth (about what I would have after 12 to 24 hours after shaving.) The bikini area will require more treatment - but thats no problem. I feel so much more comfortable in my skin these days! You can use it on your face but not near they eye/eyebrow area. (this technology - but actually not this specific product - has resulted in eye injury in some people when used on eyelids or very close to the eye.) I cant imagine anyone not feeling more comfortable in their skin after using this product.
so far, so good
This device is easy to use -- make sure you study the instructions. I dont know yet what the long term results will be, but since it is so easy to use, upkeep will not be a problem.
it really not hurt
I used a lot devices, but this one really not hurt and I love it.
Easy to use and effective
I have had professional laser hair removal before, which was very inconvenient for me with making appointments, cost, and time required. I use the Me Smooth at times convenient to me. It is easy to use and comes with excellent directions. I have used this product on my face and underarm areas, with good results. I would definitely recommend the Me Smooth to anyone.
Must have
I have had professional laser hair removal. This is great for touching up those areas that re-grow (yes it does regrow, just finer). I also tested it out on my arms, which had not had hair removal on. It worked amazing. In only a couple of sessions I noticed significant hair removal. Im lazy so havent used it in a while but I bet had I stuck with it my arms would be smooth like my legs.