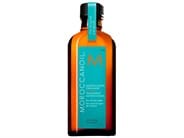 Reviews For
Moroccanoil Moroccanoil Treatment
$15.00
Straight Silky Hair Galore
A hairdresser friend told me about Moroccanoil a few years ago. I have naturally curly hair and it frizzes if I don't use the correct product. My life changed the day I started using this brand. After I towel dry my hair, comb it out and blow dry it half way I run a few drops throughout my hair. I finish blowing drying and styling and then use 1 drop to finish out the little fly always. My hair looks silky and smooth when I am finished and I don't feel like I have oily weighed-down hair! MaryFrances
Verified Purchase
A must have
This oil is my preferred finishing touch to my everyday hair styling. Smells fabulous and doesn't weigh down your hair. Claire218
Verified Purchase
A must have
I had loved Moroccan Oil Treatment for years. Just a couple of drops rubbed between my fingers and then gently rubbed throughout my hair leaves my hair buttery soft, not oily and smelling amazing. I am over 65 years old with shoulder length color treated hair and this product keeps the ends healthy with no splitting, no frizz and perfect control of static. I also add a couple drops to my body lotion for fantastically moisturized skin. I know with this product I'm getting the real thing. Amazing
Smells fantastic. Light oil makes skin feel like velvet. I use a very small amount on my hair for shine snd softness. LovelySkin Customer
Verified Purchase
My favorite hair oil
I have been using this hair oil for years and I absolutely love it! It smells amazing and leave my hair looking soft and shiny! LovelySkin Customer
Verified Purchase
Always the best
I've rarely repurchase products but this hair serum, I will always repurchase. The smell is divine and it really keeps my hair moisturized in-between washes. It's must have for think frizz prone hair. LovelySkin Customer
Verified Purchase
Morocconoil
I love this product for my hair. I put a little in my hands and smooth into my hair when it is wet. If I am styling and blowing dry, I use a small amount. It makes my hair shine and feel silky. Love it and order when I am low. LovelySkin Customer
Verified Purchase
Moroccan Oil
A great product! Makes hair shine and healthy. Hair must have
Best product around for hair to be silky smooth and tangle free. Highly recommend this product to anyone with long hair. AubreyRed
Verified Purchase
Best Hair Treatment Ever
Moroccan Oil is the absolute best hair treatment ever, I've been using it for years and have tried other cheaper oil treatments, and always go back. It's absorbed immediately, there's no residue, my hair is much more manageable and healthy-feeling and it's light, not heavy-feeling. The scent is lovely! And a plus: I discovered that you can use it on dry hair too!! Don't settle for knock-offs!! LovelySkin Customer
Verified Purchase
Big fan with Big hair
I have used Moroccan Oil for years. It helps control my crazy big hair without being greasy or heavy. Adds a great shine to the hair. It is a necessity for me. LovelySkin Customer
Verified Purchase
Best hair oil out there
Doesn't weigh down hair and smells great. Perfect for frizz and moisture. I use on dry hair. Ellenbelbeck30
Verified Purchase
Wonderful oil
I use this oil on my hair and skin. It adds shine to my hair and controls static. This oil smells amazing and I also use it on my skin. LovelySkin Customer
Verified Purchase
IN LOVE
Really good product LovelySkin Customer
Verified Purchase
LovelySkin is LOVELY
Fast shipping tried and true product, I have colored hair and this product delivers on damp hair as well as dried. Tames the frizzes! Perfect Hair Oil
This Moroccan Oil is one of the best I havé ever tried. It absorbs well and never leaves hair weighed down. My hair is fine yet the grays are course. Been using for over five years. Definitely my go to! LovelySkin Customer
Verified Purchase
Soft hair
Helps keep hair nourished and healthy. It helped turn my dry hair around. One of my essentials Orena5642
Verified Purchase
Amazing
I'm someone that hates oily hair. I tried this on my ends and I've seen an incredible difference. I started using during covid, I stoped drying my hair and I feel like my hair is in a really healthy place. Love this. Does not make your hair or face oily. 1 drop goes a long way. Smells like heaven! Wonderful
This product is one of my favorites. Smells great and makes my hair silky and smooth. Highly recommend. LovelySkin Customer
Verified Purchase
Love!!
I use this oil every day and love it! Really helps keep my hair smooth LovelySkin Customer
Verified Purchase
Great for thick hair, very moisturizing.
I love the smell of this oil -- slightly sweet. I find that putting it in while my hair is wet works best. You only need a little oil at a time. This full-size bottle comes with a cap AND a pump, which makes dispensing the right amount of product easier. LovelySkin Customer
Verified Purchase
I understand the hype now
I had been meaning to purchase this and finally caved in. It's worth every penny! I read some comments saying that the smell is nice. I can't really agree with that since the smell is neither pleasant nor unpleasant in my opinion, but it does everything it says it does. I can see a huge difference in the state, shape, and shine of my hair on the days I use this product and the days I don't use the product. LovelySkin Customer
Verified Purchase
No doubt!
I have been using it for a year! My hair is soft, silky and shiny. The horrid smell is prohibitive
I cannot use this line's products. The highly touted smell is so offensive for me that I have to avoid it. However, this treatment is an effective light oil to smooth dry ends. But there are other products that can perform this function without Moroccanoil's strong, sickly odor.