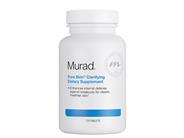 Reviews For
Murad Pure Skin Clarifying Dietary Supplement
$50.00
8 Results
Meh
I wanted the youth collagen builder but it's been discontinued. Tried this one out and haven't seen much of a difference now. Within a week or two into taking them there was one day that I broke out in hives (niacin flush) from it...so I've just been taking two every other day now and no reaction. Just waiting for my skin to clear up! LovelySkin Customer
Verified Purchase
Try it. Worked for me!!
For me, this worked wonders. Smells like turtle poop but made my skin look clear and just overall a better quality. I'm 23 and have extremely oily skin, and I'm always breaking out. I used to never go to work without wearing makeup. Now, I can go without ANY! Def have to remember to take them, but I am so much more confident. I just ordered my second batch. A guy I went on a date with even said "You have really nice skin." Like what!! TRY IT! They worked for me! LovelySkin Customer
Verified Purchase
Recommended!
I have adult acne and Im on my second month of taking this supplement. In the past, I nearly always have at least one blemish on my face. Its hard to know about cause and effect, but my skin is definitely improved. To experience completely clear skin (blemish-free) is something to celebrate. I am re-ordering today. LovelySkin Customer
Verified Purchase
Makes a difference
Have notice a substantial improvement in my overall skin condition. LovelySkin Customer
Verified Purchase
Multi-vitamin for your skin
As I get close to turning 30, my doctor keeps asking me if I take a multi-vitamin. I found this product which is packed full of vitamins, but focuses on my skin. It might not be exactly what my doctor had in mind, but it is working and I plan to continue to use it as a supplement to my daily skin care regime. Really helps!
These supplements really helped with my acne and blemishes problems. LovelySkin Customer
Verified Purchase
Great Product!
These pills definitely work. They help reduce acne on your body and prevents new ones from appearing. LovelySkin Customer
Verified Purchase
Excellent!
This product has been very good for my daughter's acne. It has been a great cleansing product, and help keep her acne away. LovelySkin Customer
Verified Purchase