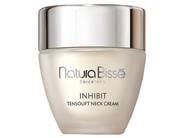 Write a Review - Receive 50 Rewards Points!
Tell us your thoughts about Natura Bisse Inhibit Tensolift Neck Cream so we can help you find the right products. With your review, you'll also receive 50 Rewards Points. Please note that it may take up to 72 hours for a review to appear on site. All reviews are subject to moderator approval.
Write a Review
11 Results
subtle lift noticed
Love this for moisturizing and the subtle lift noticed in the neck and jawline. I only wish it were not so expensive, and would like a bigger size and in a tube. This is the neck cream you NEED
I've used this neck cream for almost 10 years, early 30s until into 40's now as a preventative measure and to keep my skin from aging as little as possible. I've spend thousands on this line and used to purchase at Barney's in NY before they unfortunately closed. Yes, it is expensive, but you get what you pay for here and that's never been more true. What I've saved on not having to do countless laser treatments to repair sun damage from all my years in the sun and in tanning beds as a teenager was due to this product. I was happy to discover Lovely Skin now is an authorized reseller. The greatest testament for any skin care product is how it performs over time, with user consistency, and I am proof that these products, especially all of the Inhibit Tensolift products, perform. When I began seeing the good derms and plastic surgeon friends in my 20s as a way to learn how to protect, preserve and care for my skin as I grew older, I went through trying so many skin care products from the doctors offices to big beauty brands. I always went for the advanced products, the ones for mature skin as they have the most powerful concentrations of formulas. Natura Bisse was the only brand I found to keep my skin looking incredible. I received compliments all the time and became known for how great my skin looks. Coworkers and friends always wanted to know my skincare regimen and I was happy to share it. I'm past 40 now and I still get people who think I'm in my late 20's or 30, HA! I laugh at this, but then I give credit where it is due. Genetics are always a factor for everyone, but you can do a lot with the right regimen of products. This is proof. Buy this product, stick with it consistently. You will see a big result! Return to the best
I had used NB Inhibit Tensolift Neck Cream for many years, and was pleased with the results--it's not a miracle cure, but certainly improved the look and feel of my 60+ neck area, and kept it looking good. Several months ago, I decided to try a different neck product, which was much less expensive. I thought--how different can it be? If it does the job and I save money, then it's a win-win, right? I stuck with the other product for about 6 months, but the results--visibly-- just weren't the same, and I ended up coming back to this NB product. I was pleased to find that the cream is now offered in a more economical larger size (great value) and in tube format. What's not to love? Another great product from Natura Bisse. LovelySkin Customer
Verified Purchase
Nice Neck Cream
The cost of this product will make it prohibitive for many to purchase - I hesitated to buy it but based on the reviews, I thought it was worth a try. I have been using it for about 3 weeks and have noticed some improvement in the crepe skin on my neck. I am 56 and have some sun damage so I wasn't expecting miracles. It goes on nicely, isn't greasy and the smell is light. I will continue to use the rest of this bottle and then make a decision if it's worth the price. I definitely think this is a good product and worth the price if you start using it when you're younger. LovelySkin Customer
Verified Purchase
BEST
This is a great neck cream and I have tried many. Its not a miracle lift but my neck does look better. At 65, I take all the help i can get! LovelySkin Customer
Verified Purchase
EXCELLENT BUT FAR TOO EXPENSIVE
This product is amazing. It does what it says. I had damage, but not extensive to my neck including redness, chicken skin, lines, and I kid you not, it wiped my neck clean in 4 applications. My skin looks gorgeous - I never thought anything could fix my sun damaged, 58 year old neck. Again, I have taken excellent care of my skin since I was in my late 20's, always using sun block, wearing hats and sunglasses, and seeking shade. The damage came about when I went into a swimming pool all greased up with sunscreen, wearing my hat and sunglasses, and couldn't understand why, over that summer, my neck started getting damaged. A friend pointed out that no matter what you wear in a pool, the reflection of the sun off of the water will destroy your neck. She was right, and that's where my damage came from. This stuff did what it claims and made my neck look perfect. THE PRODUCT IS MUCH TOO EXPENSIVE FOR THE AVERAGE AMERICAN WOMAN, WHO WILL WANT THIS, BUT WILL NOT BUY IT DUE TO THE EXCESSIVE COST. IT WOULD BEHOOVE THE MANUFACTURER TO UNDERSTAND THAT, WHEN SELLING TO AMERICANS, YOU GET YOUR MONEY THROUGH VOLUME SALES, NOT SALES TO THE ELITE, WHO ARE PROBABLY GETTING THEIR NECKS TREATED BY DERMATOLOGISTS AND PLASTIC SURGEONS. EVERY AMERICAN WOMAN OVER 45 WILL WANT THIS CREAM, BUT THEY WILL NOT BE ABLE TO AFFORD IT AT THIS COST. IT MUST BE REDUCED TO $40.00 A JAR, AND THE MANUFACTURER WILL BE ABLE TO SELL THIS REMARKABLE PRODUCT TO VIRTUALLY EVERY WOMAN OVER 45 IN THE U.S. THAT IS A HUGE, HUGE MARKET, AND WHAT YOU LOSE IN PRICE YOU WILL MORE THAN MAKE UP IN VOLUME - I GUARANTEE EVERYONE WILL WANT THIS. Please consider your pricing because without doing so, I am afraid you will not be able to sell this profitably in the U.S. any other way. Again, the product is REMARKABLE, and should be available to every woman of a certain age in the U.S., not just the top 1% of consumers. LovelySkin Customer
Verified Purchase
Natura Bisse Tensolift Neck Cream
I am 55 years old and have been using this product for the last 12 months. I have seen very noticeable results after using the cream nightly after three months. This neck cream is a must and worth every dollar. LovelySkin Customer
Verified Purchase
I can see results!
I've been using the Natura line for many years. It's kept my 64+ skin looking far younger. I however haven't used neck creams. But, in the past year, I've noticed my neck beginning to show aging. I then started using the tensolift neck cream-just a few times weekly. The improvement is dramatic. Fabulous Neck Cream
I received a sample and loved the feel and the smell of the product, but the sample size was too small for me to actually see any results. I have looked forever for a neck cream and was reluctant to order this product because of the price but I did so anyway. This cream works!!! I just started my second jar, and the effects are visible. My neck looks smooth, wrinkles visibly reduced and the best part, the crepey skin on my neck has been reduced significantly. I love this product and look forward to trying other Natura Bisse products. LovelySkin Customer
Verified Purchase
Natura Bisse softens CREPEY skin
While it is very expensive, I thought with my neck needing help smoothing the CREPEY skin, this would be a good product by the way it read and its description. I decided to order it after receiving the sample and found that the sample was wonderful. It was big enough that I could use it twice and found immediate results. After learning about the ingredients, I felt it could lead to more permanent results. I am 60 years old, and my neck really started showing up as being very crepey when I was 55 so my search for the best neck cream continues. I have faith in this one. Best Neck Cream
Perfect neck cream. It glides onto your skin. It's not greasy and absorbs instantly. My neck looks smoother and firmer. I highly recommend! LovelySkin Customer
Verified Purchase